Daisy Ridley Says There "Have Been Conversations" About a 'Tomb Raider' Reboot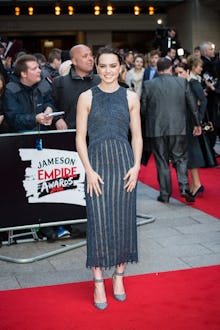 The Tomb Raider series' most recent installments came in the form of a pair of commercially successful AAA video games, but it looks like a movie reboot is next on deck for Lara Croft. Addressing the rumors that she'd play Croft in a movie adaptation, Star Wars: The Force Awakens actress Daisy Ridley admitted that there "have been conversations" about the role. 
"I'm waiting for someone to say 'I want you, let's do it,'" Ridley said, according to the Hollywood Reporter. She added, however, that there is not yet a script in place for the reboot. 
Regardless, fans were excited about the news on social media — many of whom see Ridley as a perfect successor to the role Angelina Jolie assumed for two films. 
Going from one badass female hero to another seems like a simple enough transition — Ridley will just have to trade in her lightsaber for a compound bow and a pair of pistols. 
Read more: Daisy Ridley Has a Must-Read Message for the Troll Who Body Shamed Her on Instagram