Caitlyn Jenner on the Harsh Realities of Dating Men, Facing Rejection, Getting Stood Up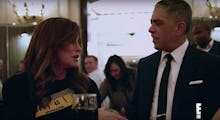 Caitlyn Jenner, welcome to the world of dating men. The transgender reality TV star has recently been opening up to the idea of being courted by men on her E! network docuseries I Am Cait, though she admits she has her reservations. 
"Guys wanna have sex with you, but then they don't wanna be seen with you," Jenner says in a teaser for Sunday night's episode of I Am Cait. In another clip, Jenner is also seen speaking with a real estate business owner and developer, while possibly attempting to flirt, though the scene ends with Jenner abruptly leaving the venue before the two exchange any intimate conversation. 
Sunday night's episode dealt with the world of intimidation and confusion that surrounds dating in the 21st century, which is even more perplexing for transgender people navigating an already perplexing arena. During the episode, Jenner's best friend Candis Cayne comes clean about her recent dating experiences, according to US Weekly: 
"My online dating experience so far has been dismal," Cayne said on I Am Cait. "Honestly, I feel kind of embarrassed. I'm alone waiting for somebody with a drink, and nobody's showing up. It's insulting. Why am I doing this to myself again?"
Jenner couldn't seem to agree more. The former Olympian has surely overcome both literal and figurative hurdles in her life, including her transition to womanhood, but salsa dancing with men during a dance class with Cayne was one hurdle too high. During the class, Jenner refuses to dance with any of the men, admitting she's well aware of her pop culture status and fears what her daughters would think of seeing her dance with the opposite gender. 
"For me, the big problem that I have in a lot of things is rejection," Caitlyn said Sunday night, according to Entertainment Tonight. "That's why, probably, one of the reasons I didn't date that much."
"She doesn't really know how to talk to guys, at all, with a flirt, with something more than just who she is," Cayne said on I Am Cait. 
Don't we all, Cait. It's a confusing sea of fish out there.