This College Is Surprising Students With Hand-Delivered Acceptance Letters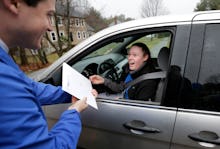 Signed, sealed and hand-delivered. 
It's the new method of Wheaton College admissions. Instead of making accepted students wait for the "You're in!" email, or agonize over what a small envelope could mean in the digital age, the Massachusetts liberal arts college is resurrecting a messaging system that predates even snail mail: face-to-face communication.
On Tuesday the college surprised 75 hopefuls in the New England area with IRL acceptances. According to the Associated Press, the college sent a total of nine teams — including its president, admissions chief and mascot — to break the good news.
Read more: New Report Shows Just How Unequal the College Admission Process Really Is
Among the lucky was 17-year-old Maya Wolf, who received her acceptance when she was sitting unsuspectingly in her driveway, AP reported:
For the remaining 74 hand-delivered pieces of good news, college officials surprised students wherever they could catch them.
Dean of admissions and student aid Grant Gosselin told the Boston Globe he believes the initiative provides students with a memorable experience that makes it more likely they'll choose Wheaton when making their final decision.
"The more we can find ways to engage with them, and help them understand what the Wheaton College experience will be like for them, I definitely think it can impact an outcome," he said.
There's proof it works: The school launched a similar campaign in 2014, Gosselin told the Globe, but instead picked out a single student for whom administration would hand-deliver an acceptance.
They caught the joyful moment on video, and the young woman, now a student at Wheaton, still talks about the experience, Gosselin said.
How can you say no to that?