Brothers Show Up at Hospital With Gifts After Accidentally Getting Text About Newborn Baby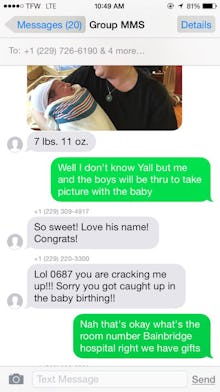 Generally, when someone texts the wrong number, the person receiving the text lets the other person know that they have the wrong number, and that's the end of it. This was not the case for Deorick and Dennis Williams.
The two brothers were accidentally included in a family group text celebrating their newborn son. "We are at the hospital. Having a baby today! She has dilated to between 5-6," the first text read. "Congrats lol but I think someone got the wrong number," one of the brothers wrote back, before receiving a picture of the newborn child.
"Well I don't know y'all but me and the boys will be thru to take picture with the baby," one of the brothers responded after receiving the text. After the original texter apologized for sending the message to the brothers by mistake, the duo offered to swing by the hospital anyway.
"Nah that's ok, what's the room number? Bainbridge Hospital right? We have gifts," one of the brothers responded.
The two brothers ended up meeting the mother, Lindsey, the father, Mark, and their newborn son, Cason Knox at Bainbridge Hospital in Georgia.
"What a blessing these two guys were to our family. They were so sweet and kind to do this! You two are great guys and thank you for giving to someone you didn't know!" the Facebook caption explaining the mix-up read. "If we all only had this kind of a heart."