New York's Wealthiest Beg the State to Take Their Money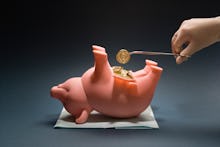 Please take our money!
That was the message of some of New York's wealthiest citizens spelled out in a letter to Gov. Andrew Cuomo. The letter, which specifically advocated a tax increase on the city's 1%, was obtained by the Associated Press. 
Read more: One Chart That Shows Just How Screwed Up Our Tax System Really Is
"As New Yorkers who have contributed to and benefited from the economic vibrancy of our state, we have both the ability and the responsibility to pay our fair share," the letter said. "We can well afford to pay our current taxes, and we can afford to pay even more."
The letter was reportedly signed by dozens of bold-faced names, including Abigail Disney and Steven Rockefeller.
According to the AP, the one-percenters called on the state Legislature to significantly raise taxes on the wealthiest single filers. The proposal argues that those making between $1 and $2 million should pay a state tax rate of 8.82% while those making between $2 million to $10 million should pay 9.35%; those between $10 million to $100 million, 9.65%; and those earning in excess of $100 million should pay 9.99%. 
"As a businessman and philanthropist and as a citizen of New York state, I believe we need to invest in our people and our infrastructure," Leo Hindery, another of the signatories said in a statement, according to the AP. 
With Republicans in control of the state Senate, however, it remains unlikely that the Legislature will move to coalesce around the plan.
Get the five stories that will challenge you to rethink the world by signing up for MicCheck Daily.