Xylø May Be the Only Undeniably Great Thing the Kardashian Clan Has Brought Us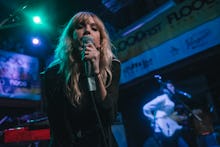 The Kardashians are far more well known for their ability to break the internet than they are for recognizing creative excellence. Their empire has blessed fans with several art-esque entities — multiple video games, emoji packs, magazine covers — but they're not exactly grand curators. 
Fans can go back and forth debating the artistic merit of the Kardashians all day, yet some of their contributions to the "culture" half of "pop culture" are harder to question than others. First and foremost among these is easily up-and-coming trip-hop duo Xylø. 
Read more: Jhené Aiko, Little Simz and Wendy Davis Advocate for Gender Pay Parity at SXSW
The brother-and-sister act, made up of Paige and Chase Duddy, has only been a band for about a year. Yet their shadowy blend of trip-hop and electronics-heavy R&B already helped them earn some excellent showcase spots at South by Southwest. With their brooding single, "America," they can boast a number-one spot on the HypeMachine and over a million plays on SoundCloud.
Success would have likely found the group eventually, but it was kicked into overdrive by Kylie and Kendall Jenner, who featured one of the group's early songs in a 2014 commercial for their PacSun line. 
"We sent it in, not really sure how they were gonna take this love song that was kinda dark," Chase explained when the band spoke to Mic at SXSW. "It didn't make sense in a lot of ways, but they loved it, and that's what really pushed us. The Jenners have obviously so many fans, and the response on YouTube was pretty cool. That's where we were really like, 'Okay, let's really do this.'"
If the Jenners had never given them that first look, Xylø may have never cut their debut genre-defying EP, America, released at the end of February. If the sun ever sets on the Kardashian empire, Xylø may be remembered as the finest contribution it made to music.
Chase had been making music for years before the Jenners gave their seal of approval, independent of what would eventually become Xylø. He sees the group's sound as a mixture of nearly every musical phase he's lived in.
"It's really a mix of so many different things," he told Mic when we met up at SXSW. "I've been through so many phases musically — from Motown to Michael Jackson to alternative rock in the '90s to hip-hop to indie, EDM even. Really, I think Xylø is kind of a mesh of all the things we love."
Working on Xylø allowed the siblings, who are 10 years apart, to connect in ways they never had before. It's also changed their personal lives entirely.
"It's a really weird feeling," Paige told Mic. "I feel like I've grown into this new person. I love it, I just never expected even two years ago that I would be pulling a microphone dancing in front of a bunch of people and feeling that confident."
Watching Paige rile the SXSW crowd up for some of the band's head-banging choruses, then pacify them right back into a sultry R&B sound, you'd never guess this was a new gift.
Even though the group has an incredible amount of momentum behind them, they're really not looking to try to break out as huge celebrities. Their dedication is to making music that's "believable," as Chase described it, and that represents their emotional lives with honesty.
"Most of our music this past year has come from all my anxiety and depression, even — highs and lows," he said. "I feel like that's where I'm able to draw that drama and dramatize the sounds. I feel personally that it helps me with the production."
Chase could do without the fame. Paige seems a little more game, but she wants it to be on her own terms. Considering the Kardashians specifically, she said she doesn't want to be famous "for those reasons."
"I respect them," she said. "But it's just not me."