Here's the Hidden Message Behind Those Weight Loss Supplement Labels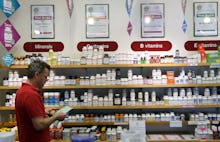 Scan the aisles of drugstores or pay attention to online pop-up ads and you'll see plenty of weight loss supplements advertised as miracle drugs. These products can make some bold claims about how fast you'll drop the pounds or how sleek you'll look after taking them — but what's really in those "miraculous" diet pills, and are they safe?
Read more: Why Weight Loss Tea Is the Biggest Scam on Instagram
The Food and Drug Administration warns against "so-called 'miracle' weight loss supplements and foods (including teas and coffees)," saying that many of the diet pills and products are not only making false claims, they may even cause "serious harm."
"The agency has found hundreds of products that are marketed as dietary supplements but actually contain hidden active ingredients (components that make a medicine effective against a specific illness) contained in prescription drugs, unsafe ingredients that were in drugs that have been removed from the market or compounds that have not been adequately studied in humans," according to the FDA.
Weight loss products sometimes come with celebrity endorsements — like Protein World, a line of supplements and meal replacers promoted on social media by Snooki and Black Chyna, or Skinny Mint, a "detox tea" featured on Kylie Jenner's Instagram — but a celebrity sponsorship doesn't mean a pill or supplement is safe.
The FDA warns it has "received numerous reports of harm associated with the use of weight loss products, including increased blood pressure, heart palpitations (a pounding or racing heart), stroke, seizure and death."
Another big problem with these quick-fix weight loss drugs? Weight loss isn't the same thing as being healthier. Anyone concerned about their nutrition would probably be better off speaking to a health professional than risking their well-being by popping an unregulated diet pill.