Arizona Primary 2016: Latest Polls and What to Expect in Democratic and Republican Races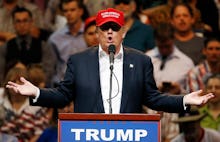 After the delegate-rich March 15 contests further cemented Donald Trump's and Hillary Clinton's statuses as their parties' respective frontrunners, the Arizona primary on Tuesday offers both candidates the chance to distance themselves from their opponents.
For Trump, a win here would mean nabbing all of the state's 58 delegates to the Republican National Convention — and would diminish the hopes of anti-Trump Republicans hoping to thwart him from reaching the 1,237 delegates required to secure the nod.
Read more: 25 Photos and Videos From the Massive Anti-Trump Rallies in New York and Arizona
Meanwhile, a decisive Clinton victory would turn up the heat on Bernie Sanders, whom many Democratic bigwigs are pressuring to exit the race after a string of disappointing performances. 
Here's a rundown of what to expect on Tuesday, when polls will close at 10 p.m. Eastern.
Republicans
Trump enters the GOP contest as a strong favorite, with a Republican electorate that's receptive to the billionaire mogul's hard-line message on immigration.
The frontrunner has won the endorsements of former Gov. Jan Brewer, who signed a 2010 law cracking down on those suspected of being in the country illegally, and Maricopa County Sheriff Joe Arpaio, whose harsh tactics toward undocumented immigrants have drawn nationwide attention.
Polling finds Trump ahead, but with many voters still up for grabs. According to the RealClearPolitics polling average, Trump leads the GOP field with 38% support, followed by Ted Cruz at 25% and John Kasich at 14%. 
A Trump victory would not only ease his path to 1,237 delegates; it would also come on the home turf of Sen. John McCain, whom Trump notoriously said was only a war hero "because he was captured" during the Vietnam War.
Democrats
While the Sanders campaign hopes that Arizona is part of an eight-state winning streak over the next three weeks, polling suggests Clinton is better-positioned to win most of the state's 75 pledged delegates. (Unlike the Republican contest, the Democratic race is not winner-take-all.)
Clinton leads Sanders 53% to 23% in the RealClearPolitics average, and while Sanders boasts the backing of progressive Rep. Raúl Grijalva, Clinton has a high-profile supporter of her own: former Rep. Gabrielle Giffords, who was nearly fatally wounded in a 2011 Tucson shooting and is starring in campaign ads touting Clinton's gun control record.
Given Trump's high unfavorability numbers with Hispanic voters, it's quite possible that Arizona could be in play in the general election, so Tuesday's primary is unlikely to mark the end of Democrats' investment in the state.