Utah Caucuses 2016: Latest Polls and What to Expect in the Democratic and Republican Races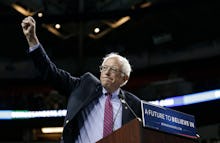 What frontrunners?
Hillary Clinton and Donald Trump may boast sizable leads in the races for the Democratic and Republican presidential nominations, but Utah caucusgoers don't look ready to fall in line.
Instead, polling and basic demographic factors point to likely victories for Sens. Ted Cruz and Bernie Sanders, two candidates who've heavily courted support in the state.
With only 40 delegates at stake on the Republican side and 33 pledged delegates up for grabs in the Democratic contest, Utah won't upend the dynamics of either party's race. But it's likely to illustrate persistent vulnerabilities on the part of Clinton and Trump, who've struggled to win over key segments of their parties' electorates.
Here's a guide to watching Tuesday's caucuses, which kick off at 8 p.m. Eastern for Democrats and 9 p.m. Eastern for Republicans.
Republicans
Mormons have proven consistently resistant to the brash, trash-talking Trump, and the heavily Mormon state may deliver him a rare third-place showing.
A Deseret News poll conducted before Sen. Marco Rubio of Florida exited the race last week found Cruz commanding the field with 42% support, followed by Trump at 21%, Rubio at 17% and John Kasich at 13%. Over the weekend, a poll from the firm Y2 Analytics painted an even direr picture from Trump, showing Cruz at 53%, Kasich at 29% and the real estate mogul far behind at 11%. 
Tea Party-aligned Sen. Mike Lee, who ousted an establishment-oriented Republican in 2010, has joined the Cruz crew, providing him one of his rare Senate endorsements. And Mitt Romney, who keeps a home and is registered to vote in the state, said last week that he'll vote for Cruz on Tuesday, but stopped short of a formal endorsement. 
Should Cruz surpass 50% support, he will win all 40 of the Utah's delegates.
Democrats
The Deseret News poll shows Sanders with a 52% to 44% lead over Clinton, who hasn't campaigned in the state leading up to the caucuses.
But a margin in that neighborhood would actually mark a disappointment for Sanders. Then-Sen. Barack Obama defeated Clinton 57% to 39% in the state eight years ago, and Sanders needs a similarly wide victory margin to keep his already-narrow path to the nomination from narrowing yet further.
Sanders has shown strength elsewhere in the Mountain West, where Clinton struggled badly in 2008. In Colorado's March 1 caucuses, he trounced her 59% to 40% — but that was before a string of disappointing showings considerably diminished his chances of securing the party nod.