This Is Where Your Thrift Store Dollars Are Really Going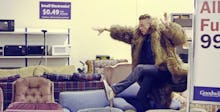 For today's sartorially minded youth, the act of thrift-shopping can resemble something of a competitive sport. The advantages of thrifting are many: low prices, unique finds and sustainable goods. Thanks to donation bins and buying counters, you can declutter your closet while escaping the thrall of fast fashion and doing good for the community (and maybe even walking away with some extra cash).
While the experience is a thrill, where exactly your dollars go when you thrift isn't always so clear. What is the cause that your favorite bargain basement cares about most? Is the company religious? Is the business, in fact, profiting from your purchase, or are those dollars going back into a mission? Where do unsold clothes end up? 
Newsflash: Some thrift stories are nonprofit, but a lot aren't.
Read more: We Got People to Tell Us Their Dirty Money Saving Secrets, aka What They Steal
A nonprofit organization is one whose commercial revenue goes right back into the mission — paying employees, renting retail spaces, hosting events, etc.
"Most nonprofits are pretty proud of their mission, and their financial data is generally pretty transparent too," Kristen McCormack, director of Boston University's nonprofit management program and the creator of not-for-profit organizations including the Boston Food Bank, told Mic in an interview. As for for-profit stores, "their primary responsibilities are to their shareholders," she said.
Without further ado, here are the thrift store heavy-hitters and where they send your money. But first, a necessary GIF.
Salvation Army
Nonprofit or for-profit? Nonprofit
What you'll pay: $1 - $100
Where your money goes: Right back to the store and its mission, which is religious in nature
Salvation Army, founded in England in 1865, is a nonprofit with an explicitly religious mission. The company statement makes no bones about its affiliation. "The Salvation Army, an international movement, is an evangelical part of the universal Christian Church," its mission statement read. "Its message is based on the Bible. Its ministry is motivated by the love of God. Its mission is to preach the gospel of Jesus Christ and to meet human needs in his name without discrimination."
There are currently 7,546 centers nationwide stocked with clothes, furniture, decorations and, of course, unlimited odds and ends. In addition to addiction rehabilitation and housing, Salvation Army offers Christmas assistance (dinners, gifts and community events for families in need), prison ministries, hunger and homeless relief and work against human trafficking. Money spent on store items goes back to maintenance of the store (12%) as well as community initiatives, according to its website.
Buffalo Exchange
Nonprofit or for-profit? For-profit
What you'll pay: $10 to $100
Where your money goes: To the owner's pockets, but also to various charities
Buffalo Exchange was founded by Kerstin and Spencer Block in 1974 with the aim of creating a "used clothing store that preserved the adventure and affordability of thrift-store shopping, but without all the hassles," Stephanie Lew, Buffalo Exchange's marketing director said in an email. With only 48 stores, Buffalo Exchange focuses on trendy clothing and accessories, including designer and vintage; customers trade in their gently worn items for cash or credit.
Unsold merchandise is shipped and sold at further discounted prices, while the rest is donated to charities. "Most of our stores have a different local charity to receive donations every day of the week," Lew said. 
Buffalo Exchange also has a program called Tokens for Bags, in which customers are offered a token worth 5 cents, instead of disposable bags, at the time of purchase to donate to one of three local charities; a $1 Earth Day Sale; a fur-repurposing program called Coats for Cubs; and partnerships with other charitable organizations.
Goodwill
Nonprofit or for-profit? Nonprofit
What you'll pay: $2 to $50
Where your money goes: Charitable programs, as well as maintenance of the stores
Goodwill is one of the most widespread thrift outlets in the country. This not-for-profit organization, founded in 1902 employs millions of people to run not only their stores, but many other programs as well: drug rehabilitation, community engagement, employment training and more, depending on the location of the outpost.
Their are currently 3,000 stores nationwide stocked with everything from household goods to clothing. In addition, Goodwill offers community-building and job assistance for those who are underemployed, formerly incarcerated or disabled — though there has been controversy over how disabled employees are paid.
Savers and Value Village 
Nonprofit or for-profit? For-profit
What you'll pay: $1 to $50
Where your money goes: To the the store owners
Savers, also known as Unique or Value Village, gets its merchandise from donations as well as paying nonprofits for goods Savers receives in bulk. Its website is full of claims to charity, but it's not all sunshine and roses. The brand has undergone some controversy, both in 1996 and 2015, when it was accused of misleading the public by paying only a small percentage to nonprofit charities while making approximately 250% in overhead profits, which means money goes back into the owner's pockets, mostly.
It also offers a recycling program, sale of metals for raw value, pick-up service, medical research, youth outreach, and more. While it does indeed reduce the amount of clothing going to landfills, items deemed unsellable are shipped to developing countries — an issue of its own.
Housing Works
Nonprofit or for-profit? Nonprofit
What you'll pay: $15 to $200
Where your money goes: Charitable programs and services focused on AIDS assistance, as well as the stores' operating expenses (NYC rent, staffing, etc)
Housing Works, established in 1990 in the wake of the growing AIDS epidemic, is a not-for-profit organization aimed at assisting individuals in New York living with HIV and AIDS, especially those who are homeless. Besides being the largest community-based AIDS-assistance organization in the country, its secondhand stores, opened first in 1995, provide, if not single-digit prices, at least "irresistible-bargain prices" on clothing, furniture and books in the company's additional bookstore and cafe branches. 
There are currently 12 stores, all in New York City, offering antique furniture, high-end designer clothing, books and yes, even coffee. Additionally, Housing Works offers housing services, legal advocacy, medical and dental care, job training and rehabilitation.
Beacon's Closet
Nonprofit or for-profit? For-profit
What you'll pay: $10 to $160
Where your money goes: To the the store owners and various charities
Beacon's Closet is a female-founded resale store based in New York, which, similar to Buffalo Exchange, allows customers to trade used clothing for cash or store credit.
With only four stores total, the vintage and good-condition secondhand clothing found here is catered to a uniquely New York perspective. "All of my business partners are females who also live in Brooklyn and Queens, and we are our own customer," founder Carrie Peterson told Mic.
Beacon's donates clothing deemed unsellable to Garage Sales Against Violence as well as other charities.
The bottom line: "If you're shopping and you want a way to help your community and reduce the amount of clothing going into landfills, then it doesn't really matter which thrift store you go to," BU's Professor McCormack said an email. "But if you want your dollars to go that extra mile and you care whether it goes to spreading Christianity or some other cause, then it's something to consider."