Apple Is Moving to Its New, Futuristic Campus in 2017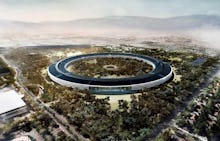 On Monday, Apple CEO Tim Cook revealed the company will finally move into its long-awaited futuristic new campus.
"In 2017 we're looking forward to moving to our new campus and our new theater there," said Cook during an Apple event in Cupertino. The complex, affectionately dubbed "the spaceship," is located in Sunnyvale, California, on a 2.8 million-square-foot plot of land and will house 13,000 employees, according to Macworld. 
Amateur drone photographer Duncan Sinfield has steadily documenting the campus's progress by using a camera-equipped drone. Despite all its pleas for privacy, Apple hasn't put a stop to Sinfield's surveillance tactics.