Bernie Sanders Is the Only Presidential Candidate With a Plan to Empower Native Americans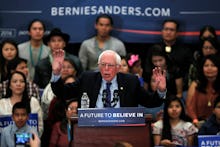 Bernie Sanders' presidential hopes look all but dashed heading into the "Western Tuesday" primary elections. His opponent, former Secretary of State Hillary Clinton, holds a near-insurmountable 760-delegate lead over the Vermont senator, and looks to widen the gap with wins in Arizona, Utah and Idaho, on Tuesday.
But as the remaining candidates ride west this week, it's worth noting their respective plans to address the challenges facing Native Americans — a segment of the population with strong representation in all three states. Turns out, there's not much to see: The only candidate with an articulated plan for America's indigenous peoples is Sanders.
"Native Americans are the first Americans, yet they have for far too long been treated as third class citizens," Sanders' campaign page reads. "The United States must not just honor Native American treaty rights and tribal sovereignty, it must also move away from a relationship of paternalism and control and toward one of deference and support."
Here are excerpts from some of the plans he outlines:
Supporting Tribal Sovereignty and Tribal Jurisdiction: Tribes must have the ability to prosecute non-Native people who commit crimes on tribal land, and have greater jurisdiction over prosecuting all crimes, including family disputes. Bernie will fight to provide Tribes with the resources for effective law enforcement and tribal courts ...
Five candidates remain in the race for president today: Texas Sen. Ted Cruz, Ohio Gov. John Kasich, businessman Donald Trump, Clinton and Sanders. Of those five, only two — Clinton and Sanders — have anything resembling a plan to address racial inequality in the U.S.
But while Clinton's plan deals mostly with issues foregrounded by the movement for black lives, including securing voting rights and ending the era of mass incarceration, she only mentions Native Americans in the context of these broader racial justice concerns. Sanders, meanwhile, has an entire section on his "Issues" page dedicated to "Empowering Tribal Nations."
From a numerical standpoint: Indigenous people are not a huge portion of America's voting public. Native Americans and Alaska Natives make up just 1.2% of the population, the smallest portion of any group counted by the U.S. Census, barring Native Hawaiians and Pacific Islanders.
But the long and brutal history of anti-Native violence in the U.S. — along with that they are, in fact, the original Americans — makes whatever happens to them a de facto referendum on the state of the union. And right now, they face a staggering number of disparities, especially pertaining to health.
Aside from facing poverty, gendered violence and police violence victimization rates much higher than the general population, Native people are also among the most at-risk for diabetes, alcoholism, infant mortality and suicide, according to the U.S. Department of Health and Human Services Office of Minority Health.
But despite Native Americans' small population size, Sanders has dedicated a deliberate chunk of his time speaking to tribal concerns. He has visited Navajo Territories in Arizona, spent time with tribal leaders in Kansas and even co-sponsored a bill — the Save Oak Flat Act — designed to stop the transfer of sacred Native lands in Arizona's Tonto National Forest to foreign corporations, who plan to turn it into a copper mine.
As Sanders' presidential aspirations grow further and further out of reach, it remains remarkable that he's the only candidate to have specifically addressed Native concerns. That ignoring indigenous issues is a viable route for any presidential candidate speaks to how marginalized Native communities really are, and how far the U.S. has to go toward a truly equitable future.
h/t Indian Country Today Media Network