Kim Kardashian Met Her Look-Alike Kamilla Osman and It's Pretty Creepy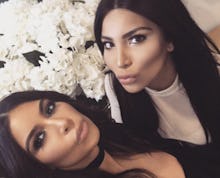 This moment has got to be Kamilla Osman's dream come true. For the 20-year-old blogger, being called a Kim Kardashian West look-alike has become a staple in her modeling and entertainment career, and Osman has certainly used the uncanny resemblance to her advantage, meeting the queen of social media and E! network for an upcoming episode of Keeping Up With The Kardashians.
While Osman has been seen strutting around California with Kardashian West's best friend Jonathan Cheban — an encounter she promoted ad nauseam with several social media posts — Monday morning brought an already-viral selfie of the young blogger with her celebrity doppelganger from behind-the-scenes of an upcoming episode of the Kardashian family's hit show. 
"Look who I ran into the other day - @KimKardashian," Osman wrote on Instagram, seeming to have perfectly adopted Kardashian West's playful tone on the photo sharing app. "We can't wait for you guys to see our episode of [Keeping Up With the Kardashians] and see what we were up to xo."
"Kim is such a sweet person and so so gorgeous, my god!" the look-alike ironically wrote as thousands of Instagram users tagged their friends, in shock of the pair's identical appearance. In the selfie, both women are posing with duck faces while staring up into the camera, which is facing downward to create the perfect angle — the perfect Kim K pose for any true Kardashian/Jenner selfie.
Of course, it isn't the first time Osman was made aware of the striking similarities she and Kardashian West share — which is at least somewhat due to the plastic surgery she received to look the part. 
"My lips, I did them when I was 16 or 15 years old," Osman told Entertainment Online in an interview about her looking very similar to the reality star. "As I was growing up, I always wanted big lips ... The only thing I did was my nose and my lips — and the nose was for medical reasons ... I had my nose done, which is rhinoplasty, for my health problems. I had a deviated septum so I couldn't breathe. That was for that and they tweaked it a bit. You know, why not?"
"I'm a Wal-Mart version of Kim Kardashian!" Osman continued in the Entertainment Online interview. 
Here are some other photos of the Kardashian West look-alike and the reality star. See if you can guess which one is which: