We Asked 7 SXSW Artists to Design Inspirational Posters to Represent Their Music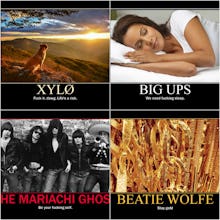 South by Southwest wrap-ups can be tedious affairs. There are so many new acts onstage during the music festival, playing so many new sounds over a such a short span of time. Some of them just blur together, which makes relaying what made each act different all the more difficult.
Looking for unique ways to signal boost some of the up-and-coming acts that impressed Mic the most, we asked every artist we spoke to come up with a farcical inspirational poster to sum up their sound. 
The results range from the personal to the magical — like actual necromancer ward-type magic. Each will hopefully serve as an unexpected, comical glimpse into the minds of some of music's future leaders. 
Xylø
Grimey hip-hop-inspired, synth pop. Kardashian-approved, for what it's worth.
Everything that we've done so far is taking a huge risk. Being a band, there's a million other people doing it, but you just gotta have that 'fuck it' mentality. Getting onstage in front of all these amazing, talented people at SXSW, sometimes I feel I'm way out of my league. But you just have to be like, 'fuck it. I don't give a fuck.' You just gotta work it.
Source: Soundcloud
Hælos
Dark, euphoric, electronic-heavy pop
When you look at the way everything flows, you often have the illusion that you have loads of control over that. The bigger our band has got, the more attention we have on us, the less power we have over its direction, other than the art that we make. In that respect we hand over that stuff, stop worrying about who's into it who's not, and stay focused ourselves we get out of it — which is expressing ourselves, playing shows, touring with friends. In its purest form: play a show, make music, done, really fun.
Source: Soundcloud
The Mariachi Ghost
Traditional mariachi with a sharp punk edge
I auditioned for a couple of really professional mariachis growing up, but it felt like it wasn't that cool. When you looked at the Ramones and you looked a mariachi band and I was growing up in Mexico, it was like [the mariachi sound] was the past. Even though I had a love for the music, I couldn't put it together in mind how that could be cool. But when I moved to Canada I started missing it, and it became really important. And that's where the two things met. There was a lot of trial and error and a lot of really shitty mixes before we found something that worked.
Source: Soundcloud
Beatie Wolfe
Folk, delivered through a wide array of unique technological innovations of Wolfe's own design
My first ever band was called Aurum, and that's gold in Latin. It's a weird link. I went to some alternative doctor a long time ago and they said my constitution was "aurum." So that word at age 15-14 just stuck and that became the band's name. My music is gold, the musical jacket, cut by Savile Row tailor Mr. Fish, who dressed Hendrix, Jagger [and] Bowie in the '60s. The idea for the next album is gold. It'll have something golden in the title.
Source: Soundcloud
Seratones
High energy, blues-tinged punk. The band performs with a lucky horse skull onstage. 
Death! Death's important to recognize. It's a part of life, and being award your mortality and having fun in the face of that, or because of it. Our first single "Necromancer" we wrote as a fun song to dance to, with this narrative of seeing someone across a party with this mystic quality, and it plays out this tense tango. A necromancer is some one that raises the spirits for better or worse — hopefully for better.
Source: Soundcloud
Madame Gandhi
Voice and drum-based electronic project, delivering a radical feminist message
"The future is female" to me means the future is collaborative, it is emotionally intelligent, it is about being your authentic self and embracing both your female and your male qualities, it is about not using the word "feminine" as an insult. The future is female.
Source: Soundcloud
Big Ups
Punctual punk, nerdcore, post-ponk.
"Not enough sleeping happens in Austin — who are these people who want to see loud music at noon? Not us!"
Source: Soundcloud