Idaho Democratic Caucuses 2016: Latest Polls and What to Expect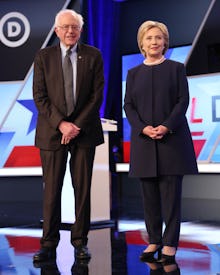 With Bernie Sanders smarting from Hillary Clinton's sweep of the five March 15 primaries, Idaho's caucuses on Tuesday offer him a chance to add a state to his win column.
Eight years after then-Sen. Barack Obama defeated Clinton 80% to 17% in the state, Idaho may once again reject the former secretary of state, notwithstanding her overwhelming lead in the national Democratic delegate count. 
The Republicans have already had their say in Idaho, picking Ted Cruz by 17 points over frontrunner Donald Trump on March 8.
With independents allowed to participate in Tuesday's Democratic caucus, Sanders' strong support among those voters may help propel him to victory over Clinton, who performs best in closed, or Democratic-only, contests.
But polls don't give us much idea what to expect. The only survey of likely Democratic caucusgoers, released in February, sampled a small number of Idahoan Democrats, and it found Sanders edging Clinton 47% to 45%. 
To halt Clinton's momentum, Sanders will need a much bigger win than that — but even an Obama-style landslide will only get him so far. The caucuses will proportionally award only 23 pledged delegates.
Caucus doors close at 9 p.m. Eastern.