Donald Trump Calls Elizabeth Warren "the Indian" After She Calls Him a "Loser"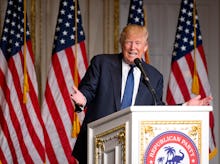 It was only a matter of time. After Sen. Elizabeth Warren (D-Mass.) fired a round of damning tweets Monday at Republican frontrunner Donald Trump, the rest of the world was left to wait for what would surely be an equally heated response. 
"The problem with the country right now [is] it's so divided, and people like Elizabeth Warren really have to get their act together because it's going to stay divided," Trump said Monday at a press conference in which he also called Warren "the Indian," according to Politico. 
Read more: Elizabeth Warren Unloads on "Loser" Donald Trump in Scathing Tweetstorm
In a recent interview with Maureen Dowd of the New York Times, Trump ribbed Warren for having identified herself as Native American in the past, insinuating that she'd exploited her heritage for personal gain.
"I think it's wonderful because the Indians can now partake in the future of the country," Trump told Dowd. "She's got about as much Indian blood as I have. Her whole life was based on a fraud. She got into Harvard and all that because she said she was a minority."
Trump also said he wasn't bothered by the parallels the public has lately drawn between him and certain nefarious authoritarian leaders. Which helps explain Warren's tweets, in which she called him an insecure "loser" who has scammed people and used underhanded methods to maintain his empire. Warren compared him to "history's worst authoritarian leaders," many of whom, she said, were also "losers." 
"@RealDonaldTrump knows he's a loser," she wrote. "His insecurities are on parade: petty bullying, attacks on women, cheap racism, flagrant narcissism."
"But just because @RealDonaldTrump is a loser everywhere else doesn't mean he'll lose this election," she continued.
A few hours after her initial rebuke (and following Trump's remarks about both her ancestry and her role in dividing the country), Warren took to Twitter again, this time calling out claims he made in the Times interview. 
"@RealDonaldTrump is 'cool with being called an authoritarian,' isn't upset at Hitler comparisons & thinks we won't fight back? WRONG!" Warren wrote. 
"We cannot elect wannabe tyrants to the White House," she continued. "Not now, not ever."
At the time of writing, Trump had yet to tweet back, perhaps because he's busy cramming on foreign policy for Monday evening's American Israel Public Affairs Committee address. As Trump told Dowd, he sometimes likes to launch his Twitter attacks from the comfort of his bed, so perhaps the tirade will come Monday night.