One Lucky Girl Will Be Wearing Gina Rodriguez's Golden Globes Dress to Prom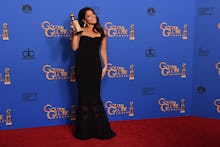 It's safe to say this high school student won't have to worry about anyone with the same dress at her prom — she'll be wearing a gown right off the red carpet.
In January, Twitter user Jessica Casanova went out on a limb and tweeted at actress Gina Rodriguez: "So I would love to wear your Golden Globes dress to prom." While tweeting at celebrities can be like shouting into a void, Rodriguez surprised her with a response:
After telling the star she lives in Buffalo, New York, the two exchanged a few more tweets to make arrangements. And Rodriguez made sure they were on the same page since she couldn't offer her 2016 Golden Globes look. 
Rodriguez said the dress must be meant to be, since it was by pure chance she saw Casanova's message to her. 
Rodriguez tracked its progress as it made its way to Casanova's home. In the meantime, Casanova showed her appreciation to Rodriguez by painting a portrait of the actress based on a headshot from 2015's Golden Globes. 
And on Monday, it finally arrived:
So forget the promposal. This year is all about the dress.
Read more: This Student Just Stood Up to Her School's Awful Prom Dress Code in the Best Way Possible