7 Top-Rated TV Shows With a Powerful LGBTQ Rights Message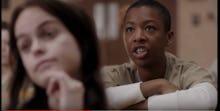 A Golden Age of television should bring a diverse variety of dramas and comedies alike. Arguably, this has been the most progressive such age yet. Several current shows feature prominent gay characters in their narratives, and while the results are mixed, there are standouts that have brought with them important, resonant messages about inclusion and acceptance. 
Older shows from the '90s and early 2000s were important for this change as well, and the critical success of these series were important for today's diverse landscape. Here are seven of the best shows — past and present — with a powerful LGBTQ rights message.
Read more: 7 HBO TV Shows That Feature Prominent Gay Characters
Six Feet Under
While a series that's centered on two brothers taking over the family business, which happens to be a funeral home, is a very niche subject, Six Feet Under tackled closeted homosexuality with Dave (Michael C. Hall). However, when Dave meets Keith (Mathew St. Patrick), a gay black police officer, he learned to accept himself and his sexuality. That, above all else, was the show's important message. It ran on HBO from 2001 to 2005.
"Between the two, David and Keith helped break down stereotypes about homosexuality and race, offering a realistic portrayal of two men in love," Stacy Lambe wrote for Entertainment Tonight. "While it wasn't always pretty, the couple broke down barriers and became one of the first gay families represented on TV." 
Transparent
The Amazon original series that premiered in 2014 starts off with an important announcement from the family's father (Jeffrey Tambor): He is transgender, and is beginning an emotional, yet equally funny journey. Transparent's success is not just in Tambor's performance — which is brilliant in his own right — but in the family's reaction to his admission and what they learn about themselves in the process.
"The importance of this show as a tool for both entertainment and education can't be understated," Mic's Kevin O'Keeffe wrote. "During a moment when we need more trans representation on TV, Transparent is leading the charge." 
Modern Family
An Emmy winner that receives a lot of mainstream attention for its appropriately modern take on family life, Modern Family's best pairing is Mitch (Jesse Tyler Ferguson) and Cam (Eric Stonestreet). While their banter is often hilarious, the most important element of the series' fame is the way it's allowed Ferguson to lobby for marriage equality around the world. Modern Family has been running on ABC since 2009.
"To me, Modern Family showed the first gay couple on network TV that felt real in a grounded way," Ferguson wrote for Entertainment Weekly. "You met Mitchell and Cameron when they were coming home from adopting a child, and it wasn't about them being gay — it was about them being new dads who just happened to be gay." 
Ellen
Prior to her ever-popular afternoon talk show, Ellen DeGeneres had another important series in sitcom form — also titled Ellen, which ran from 1994 to 1998 on ABC. Most notably, "The Puppy Episode" was her platform to announce to the TV world that she's gay — one week after a Time cover story where she came out — prior to the series' cancellation. The episode itself was an equally important platform, as there were an estimated 42 million viewers who tuned in to watch it — nearly half as much as that year's Super Bowl. The exposure alone was an important milestone.  
"The real work has been done by gays and lesbians coming out to potentially hostile family and friends and building bridges in those regards, but people like Ellen DeGeneres smoothed the way, at least a little bit," Todd VanDerWerff wrote for the A.V. Club. 
Will and Grace
Ellen paved the way for the success of Will and Grace, which had a more long-running and accolade-filled run on NBC. It aired just months after Ellen was canceled Will and Grace (1998-2006), and brought in two gay lead characters in the place of one. 
"The show drew some early criticism from both the right and left — the latter group complaining that Jack embodied too many negative gay stereotypes, and/or that (as happened with many gay male characters of the era, like Matt on Melrose Place) Will's love life was far chaster, occasionally to the point of non-existence, than a straight man's would be — but it soon became an enormous hit, and an even bigger step in the process of normalizing gay characters and relationships for an audience with little prior exposure to them," Alan Sepinwall wrote for Hitfix.
Looking
The best part about Looking (2014-2015 on HBO) is that it's such an inherently simple premise, it doesn't pander to gay viewers. It includes them. Plenty of shows follow a similar premise: friends living life and finding love in a big city (this time, San Francisco) as they work to pursue their careers and relationships. Oddly, its biggest criticism in its cancellation was that it was a mundane dramedy about the ins and outs of life. Ironic too as Seinfeld is considered an all-time classic, and it is constantly described as a "show about nothing." 
"The best thing the show can do is continue to treat the characters with the same kind of casualness cultivated in the excellent first season," Keith Uhlich wrote for BBC in a season one review. "Out of such an approach can come great, revolutionary strides (and at worst, all new banalities). But before something becomes the new cliché, it must first become the new normal, so best to engage with, if not always embrace, the things that encourage cultural shift." 
Orange Is the New Black
The Netflix original series was one of the first created for the streaming service in 2013, bringing an eccentric group of characters out of the women's prison. While Orange Is the New Black isn't always perfect in its execution, it has sensitive queer relationships presented well, as well as a trans character Sophia (Laverne Cox), played by a trans actress. The fact that it's so groundbreaking speaks to an inherent problem with the industry, but at least the show is making a positive change in the process. 
"We're showing the world that it's OK to have different women and people represented," OITNB's Selenis Leyva (Gloria) said, according to Deadline. "Netflix has been bold. We started a trend, and that trend is to be diverse — to be a butch, to be a Latina — we started something."