Google Doodle Displays the Black Lives Matter-Inspired Work of a High School Student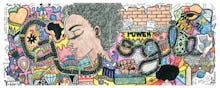 Akilah Johnson's life has completely changed, all thanks to one burst of inspiration.
The 15-year-old sophomore from Washington, D.C.'s Eastern Senior High School won the Doodle 4 Google competition; as a result, her work graced Google's U.S. homepage all day Monday.
Read more: This Google Doodle Celebrates International Women's Day in the Best Way
In addition, she received a $30,000 college scholarship, a $50,000 educational grant for her high school, a trip to Google's headquarters, a Chromebook, an Android tablet and a T-shirt with her doodle on it. 
"I was so excited, I started crying," Johnson told the Washington Post. "I didn't even look at anybody — I was just looking at the framed copy [of the Doodle] they gave me."
Google asked kids in 53 of America's states and territories to draw "What makes me... me." In response, Johnson produced a montage of images and ideas, with "Google" written in box braids in the foreground. 
The work references Black Lives Matter, discretely featuring a placard emblazoned with the movement's name. Other symbolism includes a Black Power fist, a person with a glorious Afro, the ancient Egyptian Eye of Horus and a silhouette of Africa. 
Google's selection of Johnson's work sends a political message for the company, which holds a 64% market share of all U.S. desktop search engines.