Anti-Donald Trump Ads Criticize Melania Trump for Nude Photos in Bid for Utah's Voters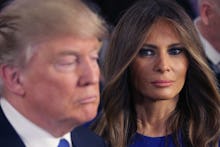 There are plenty of reasons not to vote for reality television personality and current Republican front-runner Donald Trump — his racist tirades or his extreme anti-immigration rhetoric, for example — but one anti-Trump group is hoping to slow the candidate's momentum by slut-shaming his wife.
Read: Donald Trump Sent a Thinly Veiled Threat to Bernie Sanders in This Viral Tweet
Make America Awesome, a conservative super PAC devoted to "blocking and reversing Donald Trump's political ascent" is hoping to convince Mormon voters in Utah to vote for Texas Senator Ted Cruz over Trump by running a series of ads on social media, one of which shows Melania Trump, posing naked on what appears to be furs and jewelry, reports Buzzfeed. 
The text over the image reads, "Meet Melania Trump. Your next first lady. Or, you could support Ted Cruz on Tuesday."
Liz Mair, the political strategist behind Make America Awesome, told Buzzfeed that the ad is expected to reach 10,000 voting-age Mormons per day. The message behind the ad is clear: A woman who once posed nude for British GQ doesn't deserve to be a first lady. But that sentiment is troubling for a lot of reasons. 
Women should be able to wear (or not wear) whatever they want without being slut-shamed for it. Whether it's snapping a nude selfie or posing nude for a body-positive photographer, it's up to the women involved to decide how to present their bodies. 
Posing nude — or not posing nude — shouldn't be a metric by which we judge the quality of a person's character. Hateful opinions and violent rhetoric should, though — So decide whether you'll vote for Trump based on what he says, not because of what his wife did or didn't wear one time.
h/t Buzzfeed