This Powerful Cartoon Has Become a Symbol of Solidarity After the Brussels Attacks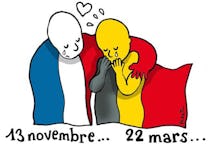 A cartoon by artist Plantu, published in Le Monde, one of France's biggest newspapers, depicts France offering Solace to Belgium after its capital, Brussels, was gripped by multiple terrorist attacks on Tuesday morning. 
Explosions in Brussels Zaventem airport and Maalbeek Metro station — near the European Union headquarters — left at least 34 dead and 230 injured, according to multiple reports. Belgium's federal prosecutor has said these attacks were carried out by suicide bombers. 
France itself was the site of coordinated terrorist attacks on Nov. 13, and one of the suspects, Salah Abdeslam, was arrested in Brussels just days before Tuesday's attacks. Plantu's cartoon has swiftly became a symbol of solidarity on social media. 
Drawings and cartoons circulating on social media also offered catharsis and solidarity in the wake of France's terrorist attacks. Brussels and Paris have been bound by the events in November, as many of the attackers had links to Brussels. Tuesday's suicide bombings will no doubt augment an already strong and supportive relationship between the neighboring countries.
March 23, 2016, 10:52 a.m.: This story has been updated.