9 Gut-Wrenching Twitter Reactions to the Deadly Brussels Explosions That Left Dozens Dead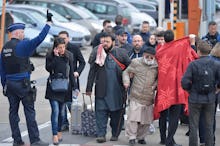 Early Tuesday morning, Brussels Zaventem airport was rocked by a reported suicide bombing followed by explosions at the Maalbeek Metro station, which left at least 34 dead and 230 more injured.
As official reports continue to track the tragedy, people are posting to Twitter with updates from the scene, sharing their raw thoughts and feelings immediately following the violent mayhem of Tuesday morning.
Some reflected on the emotional distress and devastation the morning's violence has left in its wake:
At least one Twitter user pointed out a possible double standard in people's attitudes and reactions to terrorist attacks.
And hours before Reuters reported that ISIS had taken responsibility for the attack, some preempted the Islamophobia that might arise following an announcement from the terrorist group.
Finally, there was this cartoon — a commemoration of the violence that struck Paris in November and Brussels on Tuesday:
March 23, 2016, 10:51 a.m.: This story has been updated.