These Photos Tell the Story of What's Happening in Brussels in a Way That No Words Can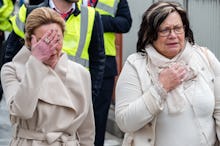 Words expressing horror and solidarity circulated the internet after a series of explosions across Brussels left at least 34 dead and 230 injured Tuesday. 
But nothing can capture what's happening in Brussels like these photos and videos of the scene do. 
Two explosions went off Tuesday morning at Brussels Zaventem airport, causing people to flee the scene in panic.
Chaos erupted inside the airport.
It killed at least 11 people and injured dozens more at the airport.
Thousands were evacuated.
Many had blood-stained clothes.
An airport worker with someone else's blood on him described the scene as being "amazingly chaotic."
Minutes after the airport blasts, another explosion occurred at Maalbeek Metro station in the heart of Brussels during rush hour.
This is what it looked like outside the train station after the explosion:
People walked along the metro tracks in pitch black to escape. 
Another "controlled" explosion of a "suspect package" in Brussels was reported hours later. 
Belgium has raised its terror threat level to its highest. 
Images showing solidarity with Brussels and anger towards terrorists have are being shared widely across social media.
"Sick of this shit. Please stop," a street art account captioned a picture of praying hands painted with colors of the Belgium flag.
March 23, 2016, 10:59 a.m.: This story has been updated.