#JeSuisBruxelles Trends in Wake of Brussels Bombings to Show Support for Victims of Attack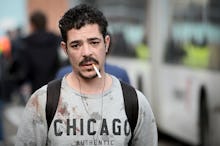 Belgian citizens, their neighbors and people around the world flocked to social media Tuesday morning after multiple explosions ripped through the international Zaventem airport and Maalbeek metro station in Brussels, killing at least 34 people and injuring at least 230. 
The hashtag #JeSuisBruxelles began trending directly after Tuesday's attacks and painted a picture of the grief, tragedy and human compassion enveloping the world during the latest act of terror. "Don't let the evil actions of broken people define your view of our world," read one quote from Steve Maraboli, tweeted on Tuesday morning. "Don't be terrorized into a diluted, hopeless reality."
Almost instantly, thousands of black, yellow and red hearts flooded timelines with the #JeSuisBruxelles hashtag, along with cartoons of the Parisian flag hugging a crying Belgium flag, prayers from across the globe and inspiring quotes to uplift those inflicted by the latest atrocities to strike the world. 
"This is not Islam," read multiple tweets, in several languages, using the #JeSuisBruxelles:
It was yet another devastating moment of terror in Belgium, which has been on high alert since the Paris terror attacks in November, and even more so after authorities captured Europe's most wanted man, Salah Abdeslam, one of the people behind last year's coordinated attacks, in Brussels last week. 
Read more: Fatal Explosions Reported at Multiple Locations in Brussels; At Least 34 Dead, 230 Injured
March 23, 2016, 10:53 a.m.: This story has been updated.