Paris Stands in Solidarity After Deadly Terror Attacks in Belgium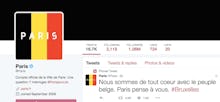 After deadly attacks in Belgium Tuesday that left at least 34 dead and 230 injured, the city of Paris has stepped up shoulder-to-shoulder in solidarity with its European neighbor. In November the City of Lights itself was rocked by a massacre that left 130 dead. The Islamic State group, or ISIS, was behind the attacks in Paris, and Tuesday afternoon claimed responsibility for the explosions in Brussels. 
One of the first and perhaps most poignant was an image by the French artist Plantu in the pages of Le Monde showing two figures, draped in French and Belgian flags, mourning together with the caption, "Les Attentats de ce 22 Mars à Brussels," or, "The Attacks of March 22 in Brussels." 
The somber image was followed up by official pronouncements of grief from the French government. "I express my deep solidarity with the Belgian people. Through the Brussels attack, all Europe is hit," the president of France, François Hollande, tweeted in French.
City officials also announced the Eiffel Tower would light up in the colors of the Belgian flag on Tuesday night, and the official Paris Twitter account has been changed to Belgium's colors as well.
Elsewhere online, #JeSuisBruxelles took the lead as a vent for ordinary citizens in France and around the world to rally one another with messages of support.
March 23, 2016, 10:58 a.m.: This story has been updated.