Tintin, the Cartoon From Brussels, Has Become a Political Symbol After the Attacks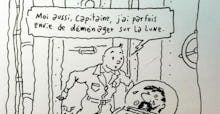 After multiple explosions at an airport and metro station in Brussels, Belgium, left at least 34 dead and 230 injured, cartoon character Tintin has become an unlikely political symbol.
Georges Remi, who wrote under the nom de plume Hergé, authored the adventures of Tintin — both Remi and his itinerant reporter cartoon hero were Brussels natives.
Tintin is depicted here, his tears running the colors of the Belgian flag. 
French rapper and member of hip-hop group, Suprême NTM, Joeystarr participated in the trend, tweeting the following image of Tintin crying into the lap of another central character, Captain Haddock. Joeystarr accompanied the picture with a hashtag that translates to "they wont have us."
That same character, Captain Haddock, can be seen below saying, "Ah, these bandits!... Ah! These pirates!... Ah! If I had them, those rogues, billions of bilious blue blistering barnacles! I would break them like... like.... like..."
Below the drawing, Twitter user JL Mas wrote, "I know, Captain Haddock, I know."
This picture of Tintin crying alongside his faithful friend, Snowy, was retweeted nearly a thousand times with the Twitter user simply writing "tristesse" — "sadness" — below. 
French political cartoonist Joann Sfar did his own recreation, depicting a teary Captain Haddock in an astronaut suit, while Tintin says, "Me too, Captain, I sometimes want to move to the moon."
"My heart is in Brussels," Sfar captioned the Instagram of his drawing. 
March 23, 2016, 11:00 a.m.: This story has been updated.