Brussels Attack Live Update: Latest News After Zaventem Airport and Belgium Metro Bombings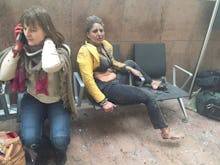 A massive manhunt is currently underway for three men believed to be behind the latest terror attacks enveloping Brussels. The bustling European metropolis was the latest site of terror on Tuesday when multiple explosions ripped through the city, killing at least 34 and injuring 230 others in an international airport and bustling metro station. 
Of the three men pictured in a security footage still from the Brussels airport below, two are expected to have been killed during suicide missions inside the transportation hub, while authorities are still determining the identity and whereabouts of the third. The only man not pictured wearing a glove on his left arm, the third suspect was also pushing a cart with luggage on top. 
New York Daily News also reported Tuesday authorities are searching for two accomplices who allegedly aided Salah Abdeslam, the Belgian-born French national and highest suspect in the Paris terror attacks in November, during journey through Europe. The suspects included a Belgian citizen named Najim Laachraoui and Mohamed Abrini.
Read more: #JeSuisBruxelles Trends in Wake of Brussels Bombings to Show Support for Victims of Attack
At least 20 people were killed inside of the Maalbeek train station an hour after two explosions killed at least 10 inside the Zaventem airport at about 7:00 GMT, the CNN reported Tuesday. Belgium's Prime Minister Charles Michel said the terror attacks on multiple city hotspots were "blind, violent and cowardly ... this is a day of tragedy, a black day ... I would like to call on everyone to show calmness and solidarity."
The nation raised its security threat to the highest level on Tuesday morning.
Eyewitnesses told the BBC explosions at the Zaventem airport occurred on the departures upper level of the transportation hub. A family just outside of the airports described leaving the bathroom in the departures zone just five minutes before explosions occurred near the area. "Two bombs went off ... there's nothing left," a man told the BBC cameraman. 
The scene in Brussels on Tuesday appeared to be controlled pandemonium. Countless emergency responders rushed into the airport and subway system while hundreds of people waited outside of the two city transit centers. 
"Luckily the ambulances and firemen arrived quickly," another witness told BBC. As people from around the world checked their timelines Tuesday morning, the trending global hashtag #JeSuisBruxelles became a symbolic message of unity for all of those whom have been inflicted by acts of terror or stand in solidarity with the victims. Countless images of French and Belgian flags intertwined across news feeds, with powerful quotes and inspiring prayers and other messages attached. 
"We were fearing terrorist attacks, and that has now happened," Michel told reporters. CNN reported all airports have been closed throughout Brussels, as international airport hubs in neighboring countries began clamping down on their own security. No terror groups have taken responsibility for any of the three blasts. 
Even New York City announced it was raising its precautionary and security efforts following Tuesday's attacks. Michel called on Belgium Tuesday "to show calm, but also solidarity ... We are facing a difficult, challenging time. And we should face up to this challenge by being united." 
French President François Hollande agreed: "I express my entire solidarity with the Belgian people ... Through the Brussels attacks, the whole of Europe has been hit."
The Islamic State, also known as ISIS or Daesh, has since taken responsibility for Tuesday's attacks, taking their message of radicalism a step further by asking supporters to invade the trending hashtags on Twitter with praise for the deadly violence. 
March 23, 2016, 10:57 a.m.: This story has been updated.