11 Things You Need to Know About Brussels Terror Attacks, Including Timeline of Events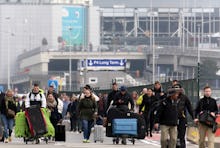 On Tuesday morning, the city of Brussels experienced a series of terrorist bombings at the Brussels Zaventem airport and then later the Maalbeek Metro station. The attacks in Belgium left at least 34 people dead and 230 more injured. 
"What we feared has happened,'' Belgian Prime Minister Charles Michel said at a press conference Tuesday, adding that authorities are worried there will be more attacks. "There are many dead, many injured. We realize we face a tragic moment. We have to be calm and show solidarity." 
Hours after the explosions across the city, the Islamic State group, or ISIS, claimed responsibility for them. The attacks followed the arrest of Paris attack suspect Salah Abdeslam, who was captured in Brussels just four days earlier.
Here is a breakdown of all the facts you need to know about Tuesday morning's attacks:
1. Two blasts went off at about 7 GMT (8 a.m. local time) on opposite ends of the check-in area of the Zaventem airport. One is likely to have been a suicide bomber, Belgian federal prosecutor Frederic Van Leeuw said, according to the BBC.
2. At least 10 were killed at the airport.
3. An hour later, around 9 a.m. local time, another blast occurred at the Maalbeek Metro station, which is near the city center. Nearby are the European Commission headquarters and the Council of the European Union, according to the BBC.
4. The metro explosion killed 20 people, CNN reported.
5. By Tuesday afternoon, major news sources had updated the death total to 30 and reported at least 230 injured.
6. Hours later, a blast at a third location in the city from "a controlled explosion of a suspect package" was reported. 
7. Belgium's terror threat is at its highest level following the attacks. 
8. Travelers are advised by the U.K. Foreign and Commonwealth Office to "stay away from crowded places and avoid public transport at this time," according to the BBC.
9. The Brussels Zaventem airport is closed until 6 a.m. local time Wednesday. The entire metro rail system was also shut down, as well as the trams and buses. 
10. France has sent an extra 1,600 police officers to train stations, airports and borders, the BBC reported. Additionally, the British have upped security at transport hubs, and Germany has increased security at airports, train stations and its borders with Belgium, France, the Netherlands and Luxembourg, according to the BBC report. The Netherlands and Luxembourg have also stepped up security, according to other reports.
11. On Twitter, the hashtag #JeSuisBruxelles was trending Tuesday in solidarity with the victims of the attacks. 
March 23, 2016, 10:57 a.m.: This story has been updated.