Eiffel Tower Lights Up in Solidarity With Victims Of Brussels Attacks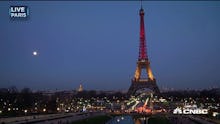 On Tuesday night, the Eiffel Tower lit up in solidarity with the victims of Tuesday morning terror attacks in Brussels, Belgium, that left at least 34 dead and 230 injured.
The display — the Belgian flag tricolor — is a throwback to November when, in the wake of the terror attacks on its own soil that killed 130, the Parisian landmark lit up in the colors of the French flag.
On Twitter, people posted messages of solidarity using the hashtag #JeSuisBruxelles, a derivative of the #JeSuisCharlie and #JeSuisParis hashtags that became famous following the November attacks and the January 2015 assault on French satirical publication Charlie Hebdo. Others used the hashtag #IkWilHelpen to offer aid in the Brussels aftermath.
Recent terrorist attacks in Turkey, which killed dozens of people through March, did not receive a similar light show in Paris.
March 23, 2016, 11:13 a.m.: This story has been updated.