Here's How the Presidential Candidates Are Reacting to the Brussels Explosions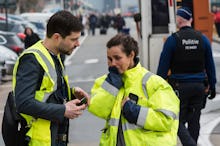 Republican presidential candidates took a hard line on immigration and Islam in the wake of the fatal explosions on Belgium transit hubs, while Democrat Hillary Clinton called for steadiness and warned against the use of torture in interrogation.
Read more: Fatal Explosions Reported at Multiple Locations in Brussels; At Least 34 Dead, 230 Injured
The bombings at the Brussels Zaventem airport and Maalbeek Metro station killed at least 34 and injured 230 at a time when the race for president in the United States has been focused heavily on combatting terror at home and abroad. Hours after the explosions, the Islamic State group, or ISIS, claimed responsibility for them.
Here's how the presidential candidates of both parties have reacted to the attacks so far. We'll update this post as more reaction comes in.
Donald Trump was out of the gate early with renewed calls for stronger U.S. border control on Twitter and in television appearances:
Trump, who has called for building a wall on the U.S.-Mexico border and prohibiting Muslims from entering the country in the name of terror prevention, said that the attacks in Brussels reinforce his argument for closing U.S. borders.
Ted Cruz opened his comments with heartbreak, but soon said the U.S. must address an "extreme strain" of Islam:
The Texas senator, running second to Trump for the GOP nomination, took to Facebook for more extended comments about defeating terrorists:
Our hearts break for the men and women of Brussels this morning. Make no mistake — these terror attacks are no isolated incidents. They are just the latest in a string of coordinated attacks by radical Islamic terrorists perpetrated by those who are waging war against all who do not accept their extreme strain of Islam.
John Kasich, governor of Ohio and underdog in the Republican primary contest, offered his condolences and urged the U.S. to strengthen relations with ally nations to fight terror:
Kasich released a full statement on his website:
I want to express my solidarity with the people of Belgium in the aftermath of the attacks that took place in Brussels. Along with every American, I am sickened by the pictures of the carnage, by the injuries and by the loss of life.
On the Democratic side, Hillary Clinton also called on the U.S. to work with its allies to fight terrorism, but said the idea of a blanket ban on Muslim travel didn't make sense, and neither did reverting to torture to extract information from suspects.
In her phone interview with NBC's Today, Clinton spoke of the future of a borderless European Union:
"The dream of a whole free Europe that was at peace is one that should not be walked away from. It was an essential development after the horrors of World War II. But we do have to be realistic about how people move from place to place, and it's been my understanding that the Europeans are looking hard at how to better protect their borders internally. And of course, they are coping with this extraordinary wave of Syrian refugees and refugees from other parts of the Middle East and South Asia. They have labored to do that in an appropriate way. But that, too, poses extra burdens on them. So this is a time for us to, you know, reaffirm our solidarity with our European friends and allies, individually and through NATO, to support them as they struggle with how best to defeat the terrorist threat they face.
Clinton repeatedly advised against "enhanced" interrogation methods that are deemed torture.
Clinton subsequently released this statement:
Terrorists have once again struck at the heart of Europe, but their campaign of hate and fear will not succeed. The people of Brussels, of Europe, and of the world will not be intimidated by these vicious killers. Today Americans stand in solidarity with our European allies. Our thoughts and prayers are with the families of those killed and wounded, and all the people of Belgium. These terrorists seek to undermine the democratic values that are the foundation of our alliance and our way of life, but they will never succeed. Today's attacks will only strengthen our resolve to stand together as allies and defeat terrorism and radical jihadism around the world.
Bernie Sanders issued this statement shortly after 11:30 a.m. Eastern:
We offer our deepest condolences to the families who lost loved ones in this barbaric attack and to the people of Brussels who were the target of another cowardly attempt to terrorize innocent civilians. We stand with our European allies to offer any necessary assistance in these difficult times.
March 23, 2016, 10:59 a.m.: This story has been updated.