PlayStation VR 2016: Price, How to Buy and Preorder Sony's Virtual Reality Headset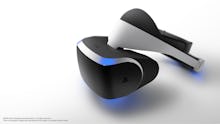 Thanks to an admittedly high amount of interest from consumers, PlayStation has now made their virtual reality Launch Bundle available for pre-order, putting everything a virtual reality enthusiast needs in one package. Moreover, the PlayStation VR core, the headset, will be available for a March 29 preorder. Either way, eager gamers are closer to getting their hands at PlayStation's dive into the virtual reality space. 
Read more: 'Star Wars: Trials on Tatooine' VR Game to Feature Motion-Controlled Lightsabers
According to PlayStation's blog, the PlayStation VR Launch Bundle will be available at an MSRP of $499.99 at "participating retailers" (it hasn't yet been announced which retailers they'll be). The VR core itself is priced at $399.99 and will include a VR headset, cable, stereo headphones, a PlayStation VR demo disk, a PlayStation Camera, 2 PlayStation Move motion controllers and a copy of PlayStation VR Worlds, a collection of five virtual reality experiences. 
The PlayStation VR Worlds disk includes five experiences specifically tailored for VR. "You will be treated to incredible visuals as you dive beneath the waves, tackle 360 combat as you fight off alien hordes from all around you, or end up in a face-to-face interrogation with a deranged and furious mobster," Brynley Gibson wrote for the PlayStation blog. "All brought to you with the immersion that makes VR so unique." 
While the preorders will undoubtedly be popular, the PlayStation VR experience will be available as a complete package for its presumed launch in the fall. In the meantime, though, perhaps more current games will be tailored for the experience, after the company announced its highly-popular Star Wars: Battlefront will support Playstation VR exclusively.