Obama in Cuba: "I Have Come Here to Bury the Last Remnant of the Cold War in the Americas"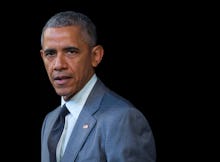 President Barack Obama delivered a spirited defense of his administration's diplomatic thaw with Cuba on Tuesday, arguing that it was long past time to move beyond Cold War hostilities but emphasizing persistent differences with the island's Communist dictatorship on matters like political rights and the rule of law.
"I have come here to bury the last remnant of the Cold War in the Americas," Obama said, speaking from Havana. "I have come here to extend a hand of friendship to the Cuban people."
The diplomatic rapprochement with Cuba, Obama argued, marked a return to the norm after five decades of isolation and recriminations.
"In many ways the United States and Cuba are like two brothers who have been estranged for many years, even as we share the same blood," Obama said, pointing to common histories of European colonialism and slavery.
Read more: President Obama Responds to Brussels Terror Attacks in Speech in Havana
"For all of our differences, the Cuban and American people share common values," he said, citing patriotism, family and education.
Frank differences: Yet Obama — with an eye toward mollifying domestic critics of his Cuba policy — didn't shirk from forcefully delineating differences between the two countries.
"[W]e cannot and should not ignore the very real differences that we have about how we organize our governments," he said. "Cuba has a one-party system; the United States is a multiparty democracy. Cuba has a socialist economic model; the United States has an open market. Cuba has emphasized the role and rights of the state; the United States is founded upon the rights of the individual."
Obama went beyond merely noting such differences. With Cuban President Raúl Castro looking on, Obama urged measures to make it "easier to open a business," open up internet access for ordinary Cubans and allow citizens to vote in "free, fair and democratic elections."
Notably, Obama also called on the Cuban government to ease restrictions on free speech and political protests, and condemned the arbitrary detention of dissidents.
A lasting thaw? While American conservatives — like former presidential candidate Sen. Marco Rubio of Florida — argue that progress on such metrics should have been a precondition for any diplomatic thaw, the rapprochement is likely to survive Obama's term, which ends on January 20, 2017.
Democratic presidential frontrunner Hillary Clinton has lavished praise on the administration's Cuba policy, and her Republican counterpart, Donald Trump, has indicated support for diplomatic ties but promised to push for a "better deal."