Amazon Workers in Germany Strike for Higher Wages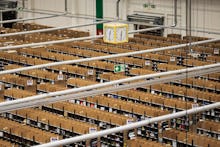 Amazon workers in western Germany are going on strike in an effort to seek out higher wages, according to the Guardian. This is latest in a series of strikes from Amazon's European workforce over the last two years.
In December 2015, workers at six warehouses took part in a three-day strike running up to Christmas. The dispute was over both wages and conditions, Fortune reported. The corresponding union hosting the strike, Verdi, complained that workers were subject to diminishing holidays and inflexible workplace rules. They argued that the intensity of the work was leading to illness among workers, to which Amazon countered that it already pays above the standard rate for equivalent jobs.
Pressure from workers' unions has picked up in Germany since the release of a documentary in 2012 illuminated some of the more unsavory practices that take place inside Amazon's warehouses during the holiday rush. Workers were brought in from surrounding countries, including Spain and Poland, and were put up in employee-specific housing, according to the BBC. Accommodations were tight and the workers were subject to room searches from a security firm. 
Amazon has also faced media criticism for its working conditions in U.S. warehouses, but workers have yet to strike. This may be a matter of cultural differences. In the U.S., only 11% of the workforce belongs to a union. Though Germany has seen its union membership diminishing over the years, its labor system is much kinder to workers. Not only do workers have a say in corporate decisions, but businesses in Germany tend to be more respectful of workers rights, according to an article in the Nation. Meanwhile, United States businesses have a much firmer tradition of campaigning against workers organizing.  
Amazon has brought that anti-labor attitude to its warehouses in the rest of the world, which hasn't sat well with European governments in particular. But the company may not have to worry for much longer about appeasing governments and workers. Amazon's robotics division is pushing to fully automate most (if not all) aspects of warehouse work. The company has made substantial progress toward its goal; in October 2015, Amazon announced it had deployed 30,000 robots. 
As the company grows its automated workforce, it will be less bound to the needs of human workers. Those human workers will be less encumbered by Amazon's warehouse conditions, but they'll also be out a reliable source of income.