Changing Your Facebook Profile Picture to Belgian Flag Won't Stop Terrorism, Says Twitter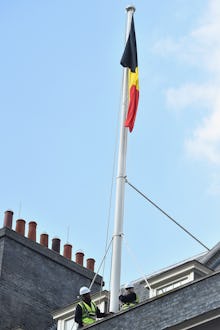 Shortly following Tuesday's terror attacks in Brussels, the world via social media gathered in digital solidarity and compassion for the Brussels victims, similar to that which occurred after last year's Paris terrorist attacks. In response to the Paris attacks, Facebook offered the option to cover your profile picture with a filter of the French flag's blue, white and red. But this time, the idea for a Brussels version was met with criticism by many who said they felt that the action wasn't effective in tangible support nor in stopping terrorism. "Just waiting on the inevitable," one user tweeted. 
"It isn't helping and as a Belgian, it's annoying af tbh," another wrote. 
Read more: Tintin, the Cartoon From Brussels, Has Become a Political Symbol After the Attacks
The hashtag #JeSuisBruxelles began to trend quickly following the attacks, with tweets decorated with the colors of the Belgian flag.
Still, social media has provided a place where people honor and support the victims and find some solace from the tragedy of these attacks through moving tributes, drawings and even providing a place for those displaced. 
Last January after the Charlie Hebdo attacks, a similar #JeSuisCharlie hashtag began to trend, and later in November, #JeSuisParis. Another trending hashtag following both events and now Brussels' was #PorteOuverte, which meant safe shelter for those victims of the bombings.
On Tuesday morning, Brussels suffered a series of terrorist attacks at major transportation hubs, Zaventem airport and the Maalbeek train station, leaving at least 34 dead and 230 injured. Prime Minister Charles Michel called the bombings "blind, violent and cowardly," according to BBC. "This is a day of tragedy, a black day... I would like to call on everyone to show calmness and solidarity." 
March 23, 2016, 11:12 a.m.: This story has been updated.