'Full Frontal With Samantha Bee' Tackles Untested Rape Kits and Local Politics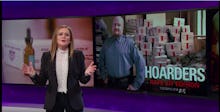 Samantha Bee has consistently produced hilarious and informative skits with a feminist spin in her short time on TBS with Full Frontal. This week's show was no different, as Bee tackled another controversial topic: rape kits, and the huge amount of kits that go untested in their respective states. 
Bee notes that thousands of rape kits are state-discarded each year for DNA evidence, while some are destroyed after the statute of limitations for rape kits expire. "You guys are taking the Marie Kondo method a little too far," Bee said. 
Moreover, Bee highlighted individuals in government and in the police force who are undermining proper efforts to handle such a serious issue, such as Georgia State Senator Renee Unterman and Idaho Sheriff Craig Rowland. Rowland, for his part, believes most rape accusations are false, and are "actually consensual sex." 
"Rowland says after interviewing an alleged rape victim, police often find it was not actually rape — things just went too far and someone got scared," a reporter states in a clip on Full Frontal. "That's what rape is!" Bee shouts in response.
Sadly — even with these controversial stances on rape — Bee said Unterman and Rowland are up for reelection again in November, and are currently running unopposed. However, Bee points out there's a disturbing commonality with local politics and rape kits. 
"Remember: local elections are a lot like rape kits," Bee said. "No one really wants to pay attention to them, but if you bother to open them up you might just get rid of someone who's been screwing everyone in town." 
Check out the full segment from Full Frontal below.
Read more: Samantha Bee Tears Trump, Cruz Apart — "Even God" Doesn't Want to Deal With Cruz