People of Brussels Are Chalking the Streets With Words of Hope in Wake of Terror Attack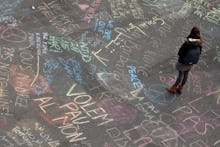 After explosions rocked the Brussels Zaventem international airport and Maalbeek metro station Tuesday morning, at least 30 people are dead and 170 injured. In response to the attacks, people are spreading messages of unity, peace and solidarity in the streets of the Belgian capital, chalking their thoughts and prayers on the ground at the Place de la Bourse, BuzzFeed reported.
"This is a day of tragedy, a black day," Belgian Prime Minister Charles Michel said of the attacks. "I would like to call on everyone to show calmness and solidarity." Brussels has taken his call for togetherness to heart.
Read more: People in Belgium Are Using #IkWilHelpen to Offer Aid in the Wake of Brussels Attacks
"Sad & shocked, we respond with more unity."
"We are one."
"Pray for BXL."
The Zaventem terror attack has been confirmed as the work of a suicide bomber while both Maalbeek and Zaventem have been reportedly claimed by the Islamic State Group, also known as ISIS. The Maalbeek station sits about seven miles away from the airport and is close to the headquarters of the European Union. Authorities suspect that the attacks are linked to the recent arrest of Belgian-born Frenchman Salah Abdeslam, the final remaining suspect in the investigation of the Nov. 13 Paris attacks. 
March 22, 2016, 3:21 p.m.: This story has been updated.