How to Change Your Facebook Photo to Belgian Flag Colors in Solidarity with Brussels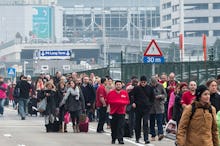 After multiple explosions across Brussels killed at least 34 people and injured at least 230 more, many showed solidarity by sharing meaningful art on social media. Users can also overlay their profile picture with the red, yellow and black Belgian flag to show support. Here's how to get the filter on your profile picture. 
While Facebook hasn't added an official feature to overlay profile pictures with the Belgian flag like it did with the Parisian flag for the November Paris attacks, a site called Rainbow Filter has one. 
Read more: Fatal Explosions Reported at Multiple Locations in Brussels; At Least 34 Dead, 170 Injured
1. Visit the website: rainbowfilter.io/belgium
2. Click Facebook login — it should automatically load your profile picture once your Facebook account connects to the app
3. Choose the Belgium filter
4. Click "Download picture"
5. Change your profile picture to the one you just created with Rainbow Filter. 
March 23, 2016, 11:04 a.m.: This story has been updated.