Former Toronto Mayor Rob Ford Has Died From Cancer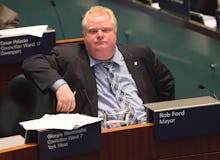 Former Toronto mayor and city councilor Rob Ford, the Canadian politician best known in the U.S. for a leaked video depicting him smoking crack cocaine, has died from abdominal cancer at the age of 46.
His office released a statement saying that "with heavy hearts and profound sadness, the Ford family announces the passing of their beloved son, brother, husband and father ... the family will not be making any statements to the media or taking any questions."
Toronto Mayor John Tory, Ford's successor, released his own statement, as did Ontario Premier Kathleen Wynne.
Olivia Chow, a Toronto-area college professor who ran against Ford, wished him and his family well days ago on Twitter.
Former Prime Minister Stephen Harper, as well as current successor Justin Trudeau, additionally released short statements on the mayor's passing.
Other controversies of Ford's terms in office include the use of official documents to solicit donations to Ford's private football-equipment charity, as well as offensive comments about HIV, allegations he assaulted or threatened multiple people including his wife Renata Ford, and the many occasions on which video footage caught the mayor apparently drunk. On one occasion, Ford responded to allegations he had solicited a female journalist for oral sex by saying he had "more than enough to eat at home."
Ford skirted the rules even as his role in Toronto politics diminished. He was removed from three polling stations while campaigning for his older brother Doug Ford, who ran to become mayor in 2014 after the younger Ford pulled out of the race due to worsening symptoms of cancer.
Torontonians contacted by Mic agreed Ford's passing was sad, but urged others not to let news of his death overshadow his troubling legacy in the city's civic life.
"As terrible a politician as you can find," 24-year-old Toronto sports editor Lanny Foster said. "A clown at times. As a man, he seemed lost."
"No kid should grow up without a father," Foster added in reference to the ex-mayor's young son and daughter. "Just hope his kids thought of him as indestructible as all kids should of their parents."
"I think we can all agree that this is very sad, particularly as he was quite young and has young children," 25-year-old New Yorker Olivia Nightingale, who was born and raised in Toronto, said. "However, and it may be terribly insensitive to say this, I hope that this doesn't mean people will canonize him now. Sure his antics were legendary, but we shouldn't forget that he was a misogynist, a racist and really did very little for the city of Toronto."
Ford was previously reported to be in palliative care at Toronto's Mount Sinai Hospital for tumors attached to his bladder that were not responding to treatment.
"Doctors have been clear since Councillor Ford's diagnosis that he is dealing with an extremely serious illness," Ford's chief of staff, Dan Jacobs, told USA Today. "They are very concerned with the reappearance and progression of the disease, but everyone is hopeful that his body will be able to fight back enough that he can then undergo further treatment."
This is a breaking news story and will be updated as more information becomes available.