When Will Brussels Airport at Zaventem Reopen After Terror Attacks?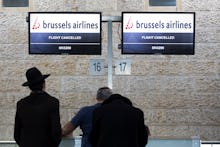 After two explosions rocked the departure hall of the Brussels airport at Zaventem on Tuesday morning, killing at least 11 people and injuring dozens more, the airport has said it is "impossible" to know when it will reopen. According to officials, all flights at Brussels Airport have been canceled until further notice, and the airport was instructing those with questions about any family or friends who were at the airport to call their specified number. 
"At this moment it is impossible to say when operations will be resumed," the official airport Twitter account tweeted. "As soon as there's more info we'll keep you up to date."
Read more: Here's How to Check if Your Friends in Brussels Are Safe Using Facebook's "Safety Check"
"Brussels Airport extends its deepest sympathy to the relatives and friends of the victims of the tragic events that occurred this morning," the airport's official website reads. The entire departure zone appears to have been destroyed due to the explosions, so it may be a long wait for the airport to resume full operation. Social media users in Belgium can turn to Facebook's Safety Check, a feature that allows its users to mark themselves safe and let their friends know they are safe.
Several explosions occurred in Brussels on Tuesday and by the evening, the death toll within the capital city of Belgium had risen to at least 34, with a total of 230 people injured. Reuters has reported that the Islamic State group, also known as ISIS, has claimed responsibility for the attack on the city. 
March 23, 2016, 11:15 a.m.: This story has been updated.