Eat Like a Gilmore With This 'Gilmore Girls'-Inspired Cookbook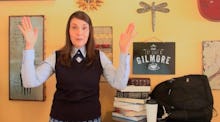 If the news of Netflix's imminent Gilmore Girls: Seasons reboot isn't enough to satiate your Stars Hollow nostalgia, you'll soon be able to eat like one of its residents. Kristi Carlson, a self-proclaimed California eclectic and Gilmore Girls superfan, has launched a Kickstarter for a Stars Hollow-inspired cookbook called Eat Like a Gilmore.
Read more: 25 Best 'Gilmore Girls' Episodes to Watch Before Netflix's 'Seasons' Reboot
Carlson writes on her Kickstarter page that the idea came last summer as "a means to combine two of my favorite things: cooking, and life in an imaginary world called Stars Hollow."
Carlson also says the cookbook is for her and people like her, "who recognize that food is its own quirky, ever-present character in that world." Many of the proposed recipes – from s'mores wedding cake to Rory's college special: "a sausage wrapped in a pancake, tied with a piece of bacon" – have been featured on the hit show.
The cookbook itself will split into three sections: The first will feature foods befitting of a small-town diner; the second will have upscale dishes appropriate for a formal "Friday Night Dinner"; and the final section will feature "foods [that might be] served at charming, eclectic, independent inns."
Launched on March 14, 2016, the campaign has already received over half of its proposed goal of $20,000. In the likely scenario Carlson receives more than her "break even" goal, she will add more recipes.
Watch her Kickstarter campaign video below, which features Carlson dressed as several Stars Hollow denizens: