Woman Says LA Lakers Players Nick Young and Jordan Clarkson Sexually Harassed Her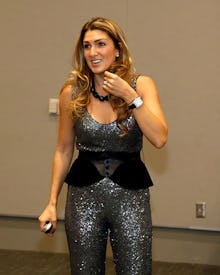 What a time to be alive: Social media can help keep you sane, sober and maybe even safe from sexual harassment. 
That's if an Instagram allegation made by I Am That Girl founder Alexis Jones against two Los Angeles Lakers translates to action on the part of the team. As ESPN reported, Jones and her mother were stopped at the intersection of Los Angeles' La Brea and Melrose avenues on Sunday evening when four men pulled up alongside their car and began aggressively heckling them. 
Read more: A Reporter Was Slut-Shamed After a Man Pulled Her Underwear Down on the Street
Unfortunately for two of those passengers, Lakers players Nick Young, age 30 and Iggy Azalea's fiancé, and Jordan Clarkson, 23, Jones — who works to educate athletes about sexual harassment and abuse — captured the entire incident on camera and subsequently posted it on Istagram.
"I pray these pics go viral because THIS is the problem with little boys," Jones wrote in the photo's caption, continuing, "I rarely 'rant' about things but this is the f%+#ing problem and the reason I've now dedicated my life to educating young men about respect, not just for women but for everyone. I'm angry. I'm insulted. I'm hurt."
The "boys" in the car, she said, "started yelling and making the most disgustingly vulgar gestures" at her and her mother, "laughing hysterically" — that is, until they noticed she was recording. Young and Clarkson were identified after she posted the photo to Instagram, ESPN reported.
Jones told ESPN her mother was deeply upset by their behavior. 
"She was super rattled. That's the truth. It scared her," Jones said. "We were in a small car, and they were in a big Jeep, and it was a bunch of big dudes. They're leaning out of the car and making vulgar, sexual gestures. My mom was really shocked. That immediately turned into sobbing."
Jones told ESPN that John Black, a Lakers spokesman, called her the next morning to apologize for the players' behavior and proposed the team as a potential future audience for a talk about respecting women. Black told ESPN that the Lakers were taking Jones' claim "very seriously" and were looking into it. He also said that head coach Byron Scott had spoken to Young and Clarkson about the incident, but no apology has been forthcoming. 
For his part, Young doesn't seem particularly remorseful. According to Sports Illustrated, he tweeted about the allegation on Monday evening, deleting it within the half-hour. "Aye if you want some action take a pic of me and say anything next to it and post ... The world we live in," the tweet reportedly read.