Could Salah Abdeslam's Arrest Be Linked to Brussels Terror Attacks?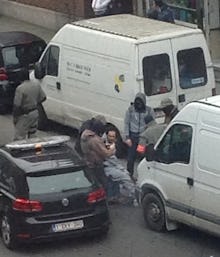 After a four-month manhunt for Salah Abdeslam, a chief suspect in November's Paris attacks that killed 130 people, the Belgian secretary of state for asylum and migration confirmed the 26-year-old was shot and captured in the Molenbeek district of Brussels. 
Although this seemed like cause for celebration at the time, Belgium Interior Minister Jan Jambon forewarned that revenge attacks could be a possibility after Abdeslam's capture. "We know that stopping one cell can push others into action," Gambon told Belgian radio on Monday, according to the BBC. "We are aware of it in this case."
Only one day later, Jambon's worst thoughts would come to pass. 
Read more: This Powerful Cartoon Has Become a Symbol of Solidarity After the Brussels Attacks
On Tuesday morning, two explosions rocked the departure hall of Brussels' Zaventem airport, killing at least 14 people and injured dozens more. Less than an hour later, another explosion at the Maalbeek train station killed at least 20 people. The Associated Press reported Tuesday evening that officials had announced at least 34 were dead and 230 injured between the airport and the train station. 
When Reuters reported that the Islamic State group claimed responsibility for the attacks on Belgium's capital city, many began speculating that Abdeslam's arrest may be linked to the attacks. 
Raffaello Pantucci, an international security expert for the Royal United Services Institute, said Abdeslam's arrest may have led to an acceleration of terrorist plans, in fear that he would release crucial information while in custody. 
"The reality is we have got a situation where there is a very large network of people in Belgium and France," Pantucci told the Daily Express. "When Abdeslam gets arrested, you will have the network around him all starting to panic. If you have problems building up, or people thinking about doing stuff, they might accelerate any planned attacks."
While the true motives behind the attacks in Brussels are still unclear, the link between the arrest of a chief terror suspect and the explosions don't appear to be a coincidence.  
March 23, 2016, 11:10 a.m.: This story has been updated.