Ted Cruz Says Police Should Patrol Muslim Neighborhoods After Brussels Attacks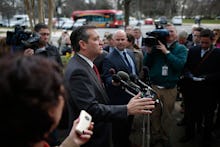 Thirty-four people are dead and at least 230 are injured after three explosions ripped through the Belgian capital of Brussels on Tuesday morning.
The Islamic State group has claimed responsibility for the attacks, but as European authorities scramble to investigate, Republican presidential candidate Ted Cruz is already lobbing accusations at migrants and Muslims and calling on police to patrol Muslim neighborhoods across the United States.
Read more: While Brussels Aches, Muslims Brace for Another Round of Islamophobia
Below is post that appeared on Cruz's Facebook page just hours after the Brussels attacks:
And here is a full transcript:
Today radical Islamic terrorists targeted the men and women of Brussels as they went to work on a spring morning. In a series of co-ordinated attacks they murdered and maimed dozens of innocent commuters at subway stations and travelers at the airport.
"Our European allies are now seeing what comes of a toxic mix of migrants who have been infiltrated by terrorists and isolated, radical Muslim neighborhoods," Cruz's post read, in one of its more chilling passages.
"We need to immediately halt the flow of refugees from countries with a significant al-Qaida or ISIS presence. We need to empower law enforcement to patrol and secure Muslim neighborhoods before they become radicalized."
The Islamophobic sentiment behind Cruz's remarks is pretty in-step with many on America's political right today.
Shortly after terrorists killed 14 people at the Inland Regional Center in San Bernardino, California, in December, Cruz's fellow Republican presidential candidate, Donald Trump, called on an immediate halt to Muslims entering the United States.
"Donald J. Trump is calling for a total and complete shutdown of Muslims entering the United States until our country's representatives can figure out what is going on," a press release from the Trump campaign read at the time, according to CNN.
In November, after terrorist attacks killed 130 people in Paris, France, 26 U.S. state governors had come out in opposition to letting Syrian refugees settle in their states. All 26 were Republicans.
But Cruz's Islamophobia may be even more integral to his political identity than the more bombastic Trump's.
A recent report from the Nation outlines how Cruz has surrounded himself with virulent Islamophobes in high-level foreign policy advisory positions, including Frank Gaffney, who is described as "the most notorious anti-Muslim activist in America today" and openly suspects that President Barack Obama is a Muslim.
In November, Cruz called for the implementation of a "religious test" to determine if people entering the U.S. fleeing civil war in Syria and Iraq are Muslim. He has also equated the Justice Department's crackdowns on anti-Muslim violence with suppressing the free speech of people speaking out against the "threat" of Islam, according to Slate.
As for Cruz's proposal that Americans "empower law enforcement" to patrol Muslim neighborhoods, we've tried that before: Between 2003 and 2014, the New York City Police Department's Demographics Unit was deployed to heavily Muslim neighborhoods in the Tri-State area to surveil and suss out potential upcoming attacks.
The unit was disbanded in April 2014 after authorities conceded their efforts did not generate a single piece of actionable intelligence.
This is what happens when you demonize an entire religion comprising about 1.6 billion people for the actions of a small handful. Meanwhile, anti-Muslim violence across the U.S. has spiked in recent months.