After Brussels Attack, Terrorists Are Using Twitter to Spread False Alarms, Lies and Panic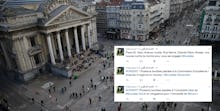 Bad information spreads like wildfire on Twitter. Usually, it's just people hastily repeating and retweeting spurious claims. 
But today, among the the chaos of a series of fatal terrorist bombings of the airport and subways in Brussels, some of those tweets are deliberate attempts to incite panic and fear.
A collection of jihadi Twitter accounts are spreading information about false targets and attacks this morning, French news site Le Monde reported. Here are sample tweets that claim, incorrectly, that there are bombs placed at the European Commission building as well as the local University, Université Libre de Bruxelles:
Some accounts have put together those messages with images of fictitious targets as well. ISIS took credit for the attacks early on Tuesday morning, but it's unclear if these image macros had been made ahead of time, or simply posted in the hours following the attack.
It doesn't appear that these messages have successfully gone viral or influenced news coverage, though certain misinformation campaigns succeeded in the wake of the Paris attacks.
How terrorists use Twitter: Social media platforms, and Twitter particularly, are important to jihadis who recruit and spread propaganda in the Western world. 
Twitter has banned tens of thousands of these accounts, but most of their censorship of ISIS comes from volunteer brigades of hacktivists tracking down and infiltrating networks on their own.
Some of the accounts we found spreading false claims about Brussels were already suspended by Twitter, which has spent the better part of the last year cleaning terrorists off their network. 
That's how terrorism operates on social media. Like a hydra, new accounts pop up, spread and pump out messages, hoping one catches fire.