Brussels Airport Worker Carries 7 Wounded to Safety in Bombing Aftermath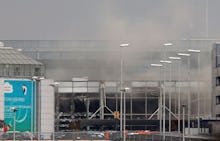 A baggage handler and security official at Zaventem airport in Brussels disregarded his own safety to pull seven wounded out of danger in the aftermath of a suicide bombing. The Tuesday morning terror attacks — which also included a blast in a central metro station — killed at least 34 people and wounded 230 others.
BBC reporter Gavin Lee wrote on Twitter that the man, identified as departure hall worker Alphonse Youla by the Wall Street Journal, was partially covered in blood after helping seven people escape the scene of the bombing.
Youla told the Journal that he heard one noise which may have been a gunshot before a much louder explosion. After the blast, he moved wounded people to nearby elevators to shield them from harm. "I saw people lying on the ground with a lot of blood who weren't moving anymore," he said.
The bomb that went off in the airport contained glass and nails, according to the Journal. Another worker, Samir Derrouich, told the paper the scene resembled the "apocalypse."
Read more: The Terror Attacks Days Before Brussels That You Probably Didn't Hear About 
March 23, 2016, 11:11 a.m.: This story has been updated.