Genetically Modified Zebrafish May Hold the Key to Tissue Regeneration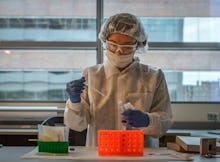 While certainly eye-grabbing, these genetically engineered technicolor zebrafish aren't just for show. These zebrafish, whose cells have been genetically programmed to glow different colors, are now helping scientists answer questions regarding tissue regeneration and how individual cells work together to heal the skin. 
The multicolor system, called Skinbow, is described in the journal Developmental Cell.
Scientists can monitor how each cell on the fish operates, and are able to randomly express various combinations of red, green and blue fluorescence. These combinations result in more than 60 different hues, which will aid researchers in singling out and examining the actions of individual cells.
Read more: Man Uses Flesh From His Own Damn Leg to Find Out What Humans Taste Like
"Before we can fully understand tissue regeneration, we need to be able to monitor what individual cells are doing," Kenneth D. Poss, James B. Duke, professor of cell biology at Duke University and the lead scientist on this project, told Duke Today. "This is a cutting-edge way to visualize hundreds or thousands of cells at once in a regenerating tissue."
The scientists seek to connect the Skinbow system with other imaging techniques to crack the mysteries of tissue regeneration.
"Our findings introduce a platform for large-scale, quantitative in vivo imaging of regenerating skin," the study's authors wrote in a summary for Developmental Cell.