6 Celebrities Who Are Open About Their Mental Health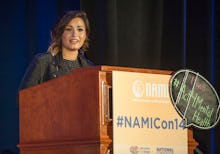 About one in five — or 43.8 million — Americans experience mental illness in a given year, according to the National Alliance on Mental Illness in 2015. Yet, when it comes to the public's perception and even in practice, mental illness is inadequately treated as an obscure and stigmatized medical condition, according to USA Today. 
The lack of education and social acceptance has led many to stay quiet about their mental health. "The stigma that surrounds mental health is suffocating, and I don't feel comfortable talking about it with most of my friends and family, and certainly not my boss or colleagues," CJ Laymon wrote for the Atlantic in 2013. Too often, words like "crazy" and "bipolar," and drugs like Xanax and Zoloft are thrown around casually.
So when an influential celebrity breaks silence on living with mental health issues, their advocacy can help break down that barrier and reduce the cultural stigmatization of these issues. 
Below are six celebrities who have candidly opened up about mental health:
1. Demi Lovato
In 2014, singer and actress Demi Lovato stepped into her current role as an advocate for bipolar disorder when she opened up about her mental illness in an interview with Cosmopolitan for Latinas. "It was that loneliness you get when you're sad and it's the middle of the night, and even though you have family and friends to call, it's hard to pick up the phone," she said regarding the time she spent struggling with bulimia, drug abuse and self-harm. In August of that same year, she released a video PSA in which she stated, "Bipolar depression really got my life off track. But today I'm proud to say I'm living proof that someone can live, love and be well with bipolar disorder when they get the education, support and treatment that they need," according to the Huffington Post. 
2. Cara Delevingne
At the 2015 Women in the World Summit last October, supermodel and actress Cara Delevingne spoke about living with depression, as her modeling career was becoming more and more of a success, BuzzFeed reported. "I was completely suicidal, I didn't want to live any more. I thought that I was completely alone," she said. Later she added, "In the eternal life, I couldn't be luckier or more blessed. But the international battles that were going on — I felt like I never deserved any of it, like I was living someone else's dream." With the help of fellow model Kate Moss, Delevingne took a break from modeling.
3. Jared Padalecki
With the help of Represent.com, Gilmore Girls actor Jared Padalecki launched his "Always Keep Fighting" T-shirt campaign to benefit the nonprofit organization To Write Love on Her Arms, which helps those who turn to self-injury from depression or addiction, according to Variety. While filming his more recent show, Supernatural, a doctor diagnosed Padalecki with clinical depression. "There might be several tough times in any given single day, but hopefully, this will help somebody to think, 'This isn't easy; it is a fight, but I'm going to keep fighting,' and that's why we did this shirt," he told Variety.
4. John Green
Author of popular young adult novel The Fault in Our Stars John Green candidly opens up about his anxiety on his Tumblr. "It's something I live with, something that I've integrated into my life," he said in his Reddit Ask Me Anything in May 2014. "And we all have to integrate stuff into our lives, whether it's mental illness or physical disability or whatever. There is hope. There is treatment. You are not alone, and while I know the struggle feels at times completely hopeless and futile, there is a far shore for the vast majority of people, and I wish you the best."
5. Sarah Silverman
Comedian Sarah Silverman admitted that she first experienced depression and panic attacks at the age of 13, according to an interview with Glamour. As she grew older, she was prescribed Xanax, Klonopin and Zoloft. In the interview, Silverman was also candid about how her mental illness had once given her pause about having kids. "But if you ever experience it, or are experiencing it right now, just know that on the other side, the little joys in life will be that much sweeter," she said. 
6. Wayne Brady
Comedian Wayne Brady has also opened up about living with depression — as well as the pressure placed on men to hide it in order to maintain their masculinity, according to People. "What kind of man would I sound like if I told somebody, 'Hey, I am so sad,'" he said, adding "'I'm cripplingly sad. I can't get out of bed. I just feel empty. Help me.' — I'd be [seen as] some sissy. I'd be soft. That's what you're taught. That's how you were programmed. And that's what kills us." Brady joined the nonprofit Bring Change 2 Mind's #StrongerThanStigma campaign, which seeks to aid men in dealing with the stigma surrounding mental illness.