2016 Arizona Democratic Primary: Hillary Clinton Easily Defeats Bernie Sanders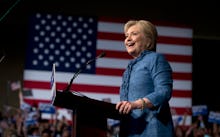 Dealing a blow to Bernie Sanders' hopes of starting a weeks-long winning streak, Democratic frontrunner Hillary Clinton defeated the Vermont senator in the Arizona primary on Tuesday.
The Associated Press called the race for Clinton at 11:19 p.m. Eastern.
Read more: Arizona Primary 2016: Latest Polls and What to Expect in the Democratic and Republican Races
While polling had shown Clinton with the edge going into Tuesday's vote, Sanders held out hope that he could upset the former secretary of state in the Grand Canyon State. From massive rallies to Spanish-language ads featuring Rep. Raúl Grijalva, Sanders pulled out all the stops to notch a victory.
But Clinton's longer track record in the state — she beat then-Sen. Barack Obama by 8 percentage points there in 2008 — ultimately won out.
Political observers also took note of a compelling ad from former Rep. Gabrielle Giffords, the congresswoman who was severely wounded in a 2011 shooting, trumpeting Clinton's support for gun control measures.
Arizona marks Tuesday's largest delegate prize for the Democrats. The state will send 75 pledged delegates, proportionally allocated, to the Democratic National Convention in July. 
Clinton boasts a sizable lead over Sanders in both pledged delegates and superdelegates, and his failure to win Arizona underscores the daunting hurdles he'll face as he seeks to overtake her.