The "Japanese Diet" May Help You Live Longer — Here's How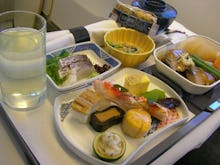 According to data from census reports and demographic statistics compiled by the World Bank, Japanese people in 2013 lived, on average, to 83 years old, and the country itself ranks among the top five nations with the longest life expectancy.
A major contributor to Japan's high life expectancy and overall health is their diet, as determined by the country's Ministry of Health, Labour and Welfare. According to a recent study published by the BMJ, Japanese individuals who closely adhered to the traditional Japanese diet during the 15-year study had a mortality rate 15% lower than those who did not. Further, those who did adhere were also less likely to succumb to cardiovascular and cerebrovascular diseases.
Read more: How Much Sushi Is Too Much? Here's Why You Probably Shouldn't Fear Mercury Poisoning
Japan's Ministry of Health, Labour and Welfare breaks the traditional Japanese diet down in their version of the food pyramid, called the "Japanese Food Guide Spinning Top." Though the Japanese diet emphasizes high intakes of fish and soybean products in lieu of fats, it is generally a balance of grains, vegetables, fish and meat, and milk and fruits. However, the guide also includes snacks, confectionaries and alcoholic beverages, which can be consumed in moderation, rather than completely eliminated.
The food guide, as implied by its name, resembles a spinning top; a balanced diet acts as the foundation, but physical activity and drinking plenty of water or teas is also paramount in setting its benefits in motion.
h/t Live Science