Everyone Should Be Paying Attention to What President Obama Just Said in Cuba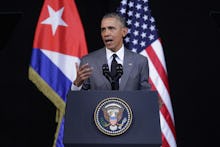 HAVANA — "I have come here to bury the last remnant of the Cold War in the Americas."
With those words, President Barack Obama made history Tuesday morning as he spoke directly to the Cuban people, in a much anticipated televised address to the nation that marked the centerpiece of his three-day visit to Cuba.
"I have come here to extend the hand of friendship to the Cuban people," Obama told the audience of over a thousand onlookers in the Grand Theater of Havana, as he sought to overturn years of isolation and difficult history, and pave a new road forward for relations between the United States and Cuba. "Our grandchildren will look back on this period of isolation as an aberration."
Read more: Obama in Cuba: "I Have Come Here to Bury the Last Remnant of the Cold War in the Americas"
But it was clear from the president's speech that he wasn't just speaking to the Cuban people as he shared his vision for the two countries' future. He was also speaking directly to three different audiences.
His message to Cuba's president: In the lead-up to his address, there was speculation that Obama would use the occasion to openly call on Cuban President Raúl Castro to speed up democratic reforms in a country with a dismal track record on human rights. Ahead of the speech, young Cuban-Americans living in Miami said they would be watching closely for Obama to take a strong stand against the socialist leader.
That he did. With Castro looking onward from the balcony, Obama spoke about the importance of freedom of the press and the right to political assembly.
"I believe citizens should be free to speak their mind without fear — to organize, and to criticize their government, and to protest peacefully, and that the rule of law should not include arbitrary detentions of people who exercise those rights," he said.
Obama also pressured Castro on the issue of political prisoners, just one day after the Cuban president said in a press conference that there are none in the country. Following Castro's claim, Deputy National Security Adviser Ben Rhodes noted that the U.S. regularly raises the issue of political prisoners with Cuba's government.
On Tuesday, Obama was clear to emphasize that the U.S. will respect Cuba's government. "We will not impose our political or economic system on you," Obama said.
Following the address, Obama met with dissidents and civil society leaders at the U.S. embassy in Havana, pushing back on the idea that he supported Castro. "Part of our policy with respect to engagement with Cuba is not simply me meeting with President Castro or government-to-government relations," he said, according to a White House pool report.
Obama elaborated that he cared about dissidents as well. "Much of this is a matter of us being able to hear directly from the Cuban people and making sure that they have a voice, and making sure that their concerns and their ideas are helping to shape U.S. policy," he continued.
His message to Congress: Beyond Castro, it was evident that Obama was also addressing his own government back home in his speech on Tuesday.
With several dozen members of Congress in the audience, Obama called on Congress to overturn the embargo on Cuba, which requires congressional approval and has proven to be a contentious political sticking point. Obama has faced vocal opposition from prominent Republicans including Florida Sen. Marco Rubio and presidential contender Sen. Ted Cruz, who say legitimizing Castro's anti-democratic government is a historic mistake.
Obama brushed off those criticisms, telling the Cuban public to huge applause, "A policy of isolation designed for the Cold War made little sense in the 21st century. The embargo was only hurting the Cuban people instead of helping them."
His message to the American people: Finally, there was one more audience whom Obama spoke directly to during his speech: the American public. With under a year left in office, Obama used the address to highlight a number of his accomplishments as president, including health care reform and gay rights. He also sketched out areas where he would still like to see progress, including money in politics and racial injustice.
With the upcoming presidential election and his own legacy on his mind, Obama praised the diversity of America's political system, telling the audience, "You had two Cuban-Americans in the Republican Party, running against the legacy of a black man who is president, while arguing that they're the best person to beat the Democratic nominee, who will either be a woman or a democratic socialist."
The big question, of course, is whether Obama's speech will accomplish his objectives, with any of the three audiences he had in mind: whether Castro will actually reform the country, whether Congress will lift the embargo and whether this trip will ultimately help to cement his own political legacy. Throughout his trip to Cuba, Obama has been adamant to emphasize that despite his optimism and belief in a promising future for U.S. and Cuban relations, serious obstacles remain.
While he praised the county's entrepreneurs and strongly asserted his faith in the Cuban people, and particularly young people, in their ability to bring about change in the country, there are plenty of obstacles left to overcome.